Magento is an e-commerce platform that was acquired in 2018 by Adobe, and which is currently distributed under the name Abobe Commerce Powered by Magento. It is one of the most popular tools in the world for selling online.
It is open source and scalable and can be adapted to any project: unlike other solutions, as well as allowing you to build and manage a bespoke online store with an engaging graphic design, it also provides advanced tools for organising your catalogue and lets you fulfil orders and handle payments in multiple shops simultaneously. All while providing you with all the detailed data you need to run your business, aggregated to help you make sense of it.
However, Magento is undoubtedly a more complex tool than other e-commerce solutions and, as we will see, it is only partially free of charge, making it suitable for medium-sized and large projects.
The latest version of Magento Ecommerce, Magento 2, was released in 2015, and offered improved usability with a more user-friendly interface. It is currently trusted by around 200,000 online stores all over the world, and is the preferred choice of major brands like Olympus, Puma, Seat, Burger King, HP, Canon and many others.
What is Magento Ecommerce: its main features explained
Let's look more in detail at the main characteristics of Magento Ecommerce, including the features of Magento 2.
Is Magento free?
There is a free version of Magento called Magento Open Source – previously known as Magento Community Edition – but, although it can be used to create a small website and online shop, it is mainly used by developers to design and test out new e-commerce solutions. The free version of Magento still has to be installed on a web server, so you need to set aside a small budget for the hosting and domain name.

Due to its complexity, building e-commerce sites with Magento requires expert assistance: shop owners or managers can then manage the catalogue and warehouse using a dedicated graphical interface.
Magento is open source and customisable.
Magento Ecommerce is an open-source platform, i.e. the code used to build the software is public and modifiable. This means it is easy for those with a Magento e-commerce site to find developers that work with Magento and to change their supplier (i.e. the agency or freelancers that built the online shop and are responsible for developing and maintaining it) without too many problems. Moreover, expert developers can personalise all aspects of Magento to adapt it to your needs.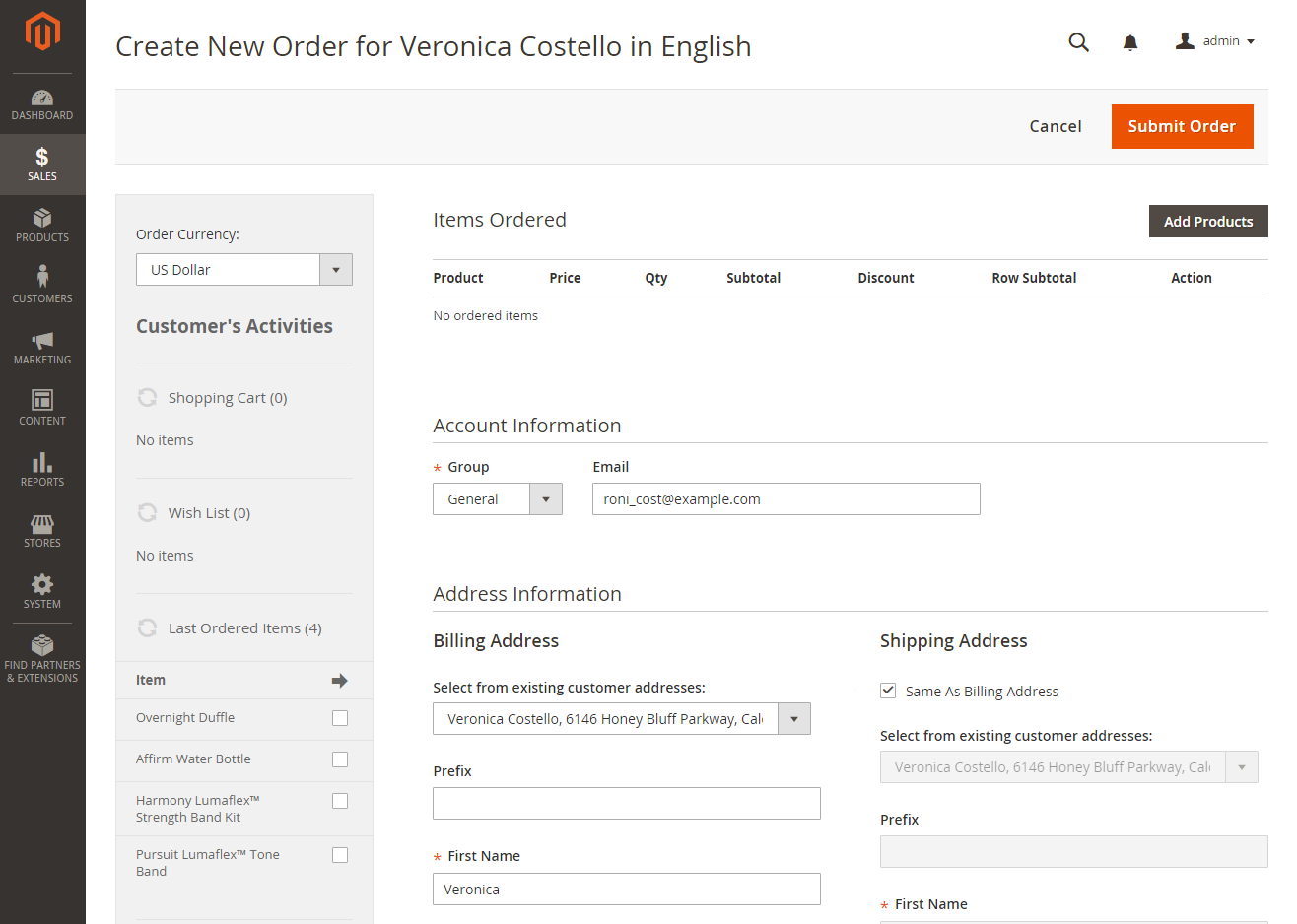 Magento is easily scalable.
Scalability is one of the most important factors to keep in mind when building an online store: it means that a small shop can grow exponentially without having to change e-commerce platform. The scalability of Magento and Magento 2 is one of its main advantages: the platform's functions can be adapted to various types of catalogue and different amounts of web traffic.
Drag & drop content management.
You can easily create and modify your website's contents – both general product category pages and detailed pages for individual products – using a drag and drop system that allows you to move the various modules around the page however you like. The interface used to manage the online catalogue is also intuitive, and so these activities can be carried out without needing the help of developers.
Advanced warehouse management.
Magento integrates seamlessly with other IT systems for managing stock levels and allows you to manage various aspects of order fulfilment like home delivery and collection in store, payments and warehouse logistics. You can also sell B2B or B2C using essentially the same infrastructure.
Advantages and disadvantages of a Magento online shop
We will now try to summarise the pros and cons of Magento and Magento 2. Whether or not we recommend you use this e-commerce platform certainly depends on the size of the project and the budget you have available.
The advantages of Magento:
Magento is a highly scalable e-commerce platform. If your shop is small or medium-sized but plans to grow, you won't need to change platform.
Magento is open source: this means it is highly customisable and can be adapted to any project. It also means changing supplier – such as the agency that built your online shop, for example – is relatively painless.
Magento allows advanced monitoring both of the site's content and of stock levels, payments and logistics.
Magento can be integrated with other management software used at the company, making it particularly suitable for dealing with large catalogues.
The disadvantages of Magento:
The free version of Magento is limited. The prices of the paid version are based on the gross market value (GMV) of goods and the average order value (AOV), which can make using the platform expensive.
Magento is a rather complex platform and is not always intuitive. Building an online shop with Magento often requires the support of an agency or expert developers.
You need to pay for web hosting. Magento Ecommerce is a tool for building and managing an online shop, but you still need to buy web space to host your store.
Overall, then, Magento is more suited to complex online shops, such as those run by major brands or medium-sized and large stores, or online retail projects that are hoping to grow in the future. Small shops, craftspeople and creatives will find other e-commerce tools more affordable.
Useful resources for Magento Ecommerce
Magento is a complex tool, and it has a series of functions that are worth looking into in more detail, including as a retailer, so you can take full advantage of the platform.
Adobe has therefore provided a range of detailed resources and manuals, including a guide to putting together your inventory, to managing your catalogue and categories on your e-commerce site, and to adding and choosing images and videos depicting your products.
Retailers and businesses interested in Magento Ecommerce should also have a look at the success stories Adobe has assembled to work out which projects the platform is best suited to and how to make the most of it. The Magento blog also offers useful hints and tips for managers, shop owners and firms interested in creating an online store with the tool.
Finally, Adobe also offers official online training courses – rather expensive to tell the truth – including, for example, some on managing a shop built with Magento Ecommerce.