As technology and internet use evolve, particularly regarding online purchases, the way businesses make contact with customers is changing too, with technologies linked to cloud computing developing rapidly.
One such technology is Salesforce, a CRM platform that provides an innovative way for businesses to connect with customers, optimise their sales processes and marketing strategies, handle transactions and customer service and much more besides. In this article, we'll answer two questions: 1) what is Salesforce? and 2) what functions does it have? But first we need to go back to basics and examine what we mean by CRM.
What is a CRM?
CRM stands for Customer Relationship Management, and it is a piece of integrated software that assists businesses in handling their customers' data. Whenever someone at a firm talks to a customer or follows a promising lead (potential client), they accrue certain data. Previously, all this information would have been stored on analogue, paper-based media or in non-connected digital systems, such as a notebook or an Excel spreadsheet.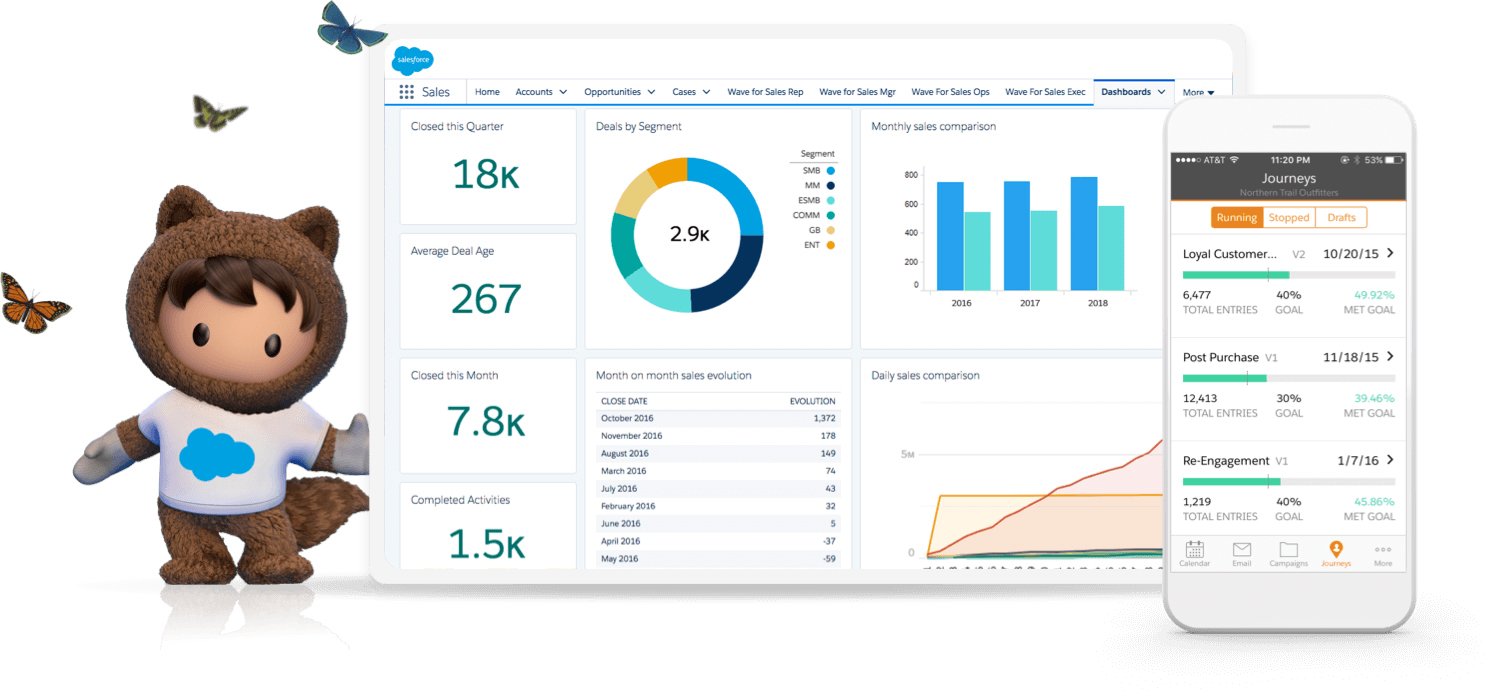 Without a CRM, it is easy for a business to forget or lose valuable data, making it harder, for example, to locate an urgent issue during a telephone conversation with a client, or to choose which marketing leads to pursue.
Since the advent of the web, and the resulting huge amount of customer data held by businesses, software has been developed to handle these contacts and the information associated with them. This is known as CRM software. Basically, a CRM system is a sort of central hub, a data collection and sorting centre where all the information gathered on potential and existing customers is stored, as well as data on suppliers or any other business contacts.
A CRM brings together this data and makes it clearly accessible, easy to read, and useful to the business, boosting revenue by storing and connecting information on customers from different sources and putting it into a logical order.
The CRM keeps track of every phone call, email, sale and interaction with bricks-and-mortar stores (if applicable), websites, social media platforms, call centres and paid advertising online, creating an all-encompassing view of the customer and analysing and storing their personal preferences, with the ultimate aim of increasing their satisfaction (and therefore the number of sales). The result is a profiled customer database that makes it easier and simpler for businesses to stay in touch with customers, improving future profitability.
How and why a CRM can be useful for businesses
A CRM system based on cloud technology provides access to all the data the business has collected, from anywhere on the planet: all you need is a device and an internet connection.
Here are the main functions of a CRM and how companies can use it: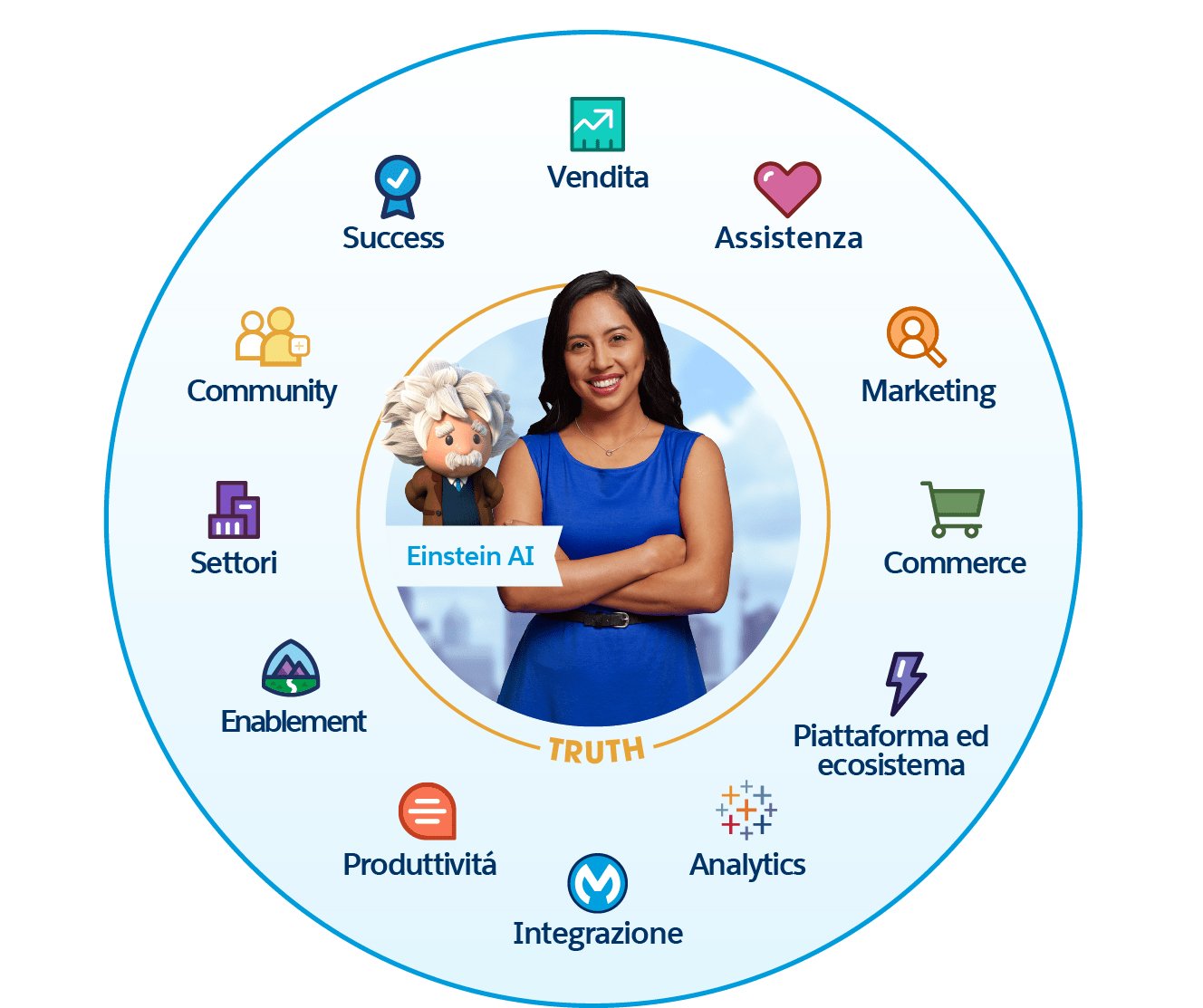 Getting to know customers better: a CRM provides access to up-to-date information on customers, sometimes with quite a lot of detail. Before you can sell something, you need to know who you are talking to. CRM software is therefore an extremely powerful tool for organising all the data on a firm's potential and existing customers, as it groups all their data, orders, messages, emails and much more into a single sales pipeline. This can also help the company to improve its customer service, as the system provides employees with a complete overview of the customer's position at a glance, providing a better experience and increasing customer satisfaction.
Lead segmentation and management: you can monitor activities and targets throughout the journey from potential customer through to final conversion. Whether you are using it to choose the best email marketing strategy or to sell a particular product or service, a CRM allows you to divide your data up into very specific lists, and so create categories of customers (divided up by age, sex or stage in the purchasing process) and tailor your marketing campaign accordingly.
Use forecasts to increase sales: you can access forecast reports that allow sales experts to qualify leads more precisely. In general, a CRM can help to simplify the sales process, automating activities and analysing all the data the company holds.
Improve customer loyalty with analytics: once you have acquired and converted potential customers, you need to reward them to retain their loyalty. Having supporting data that can be viewed in organised, customisable dashboards is vital to help you, for example, remember meetings and know when to send follow-up emails and when to contact historic customers again after a certain period of activity.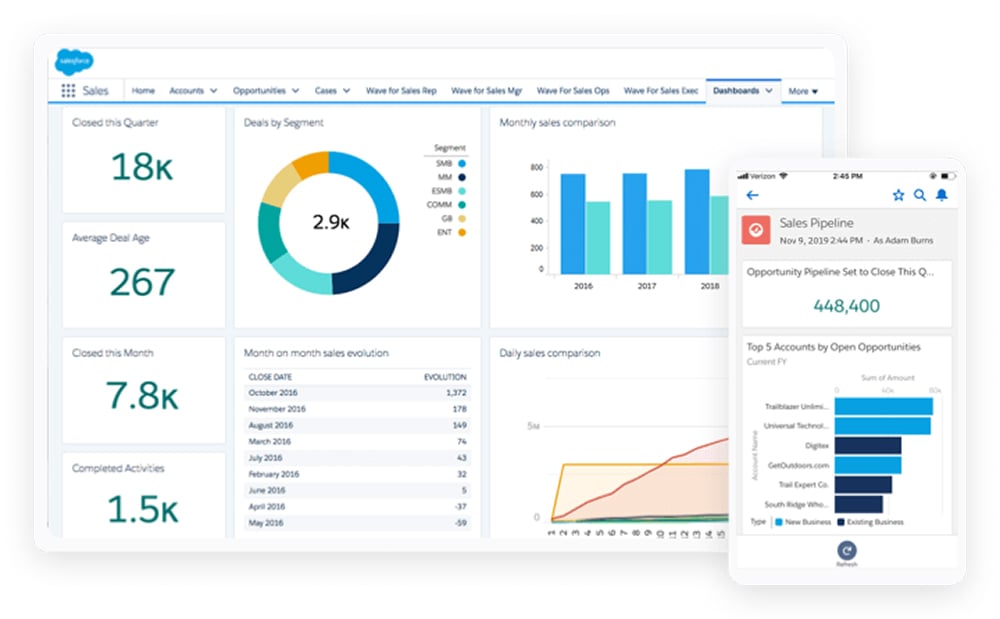 Email monitoring and integration with Outlook and Gmail: a CRM can be synchronised with various email systems to provide a single flow of information and complete customer overview.
File and content sharing: employees can upload information to a central hub to make sharing them with other people in the same company easier.
Integration with email marketing, accounting and call centre software: you can create an automated sales process, which sends a potentially interested contact a welcome message followed by a series of aftersales emails.
Instant messaging for employees: you can use instant messaging to ask for help from colleagues. Everyone can see how other employees are handling a certain customer, ensuring a consistent tone of voice across the brand.
Salesforce: what it is and how it works
Salesforce is a cloud-based SaaS (software as a service) solution, a piece of CRM software launched in 1999 by Marc Benioff and three developers, Parker Harris, Dave Moellenhoff and Frank Dominguez. It allows firms of any size to get closer to their customers using tools from the so-called fourth industrial revolution, i.e. cloud, mobile, social, IoT (internet of things) and artificial intelligence technology. The system is already used by a huge number of companies, and the market is forecast to grow by almost 15% by 2027.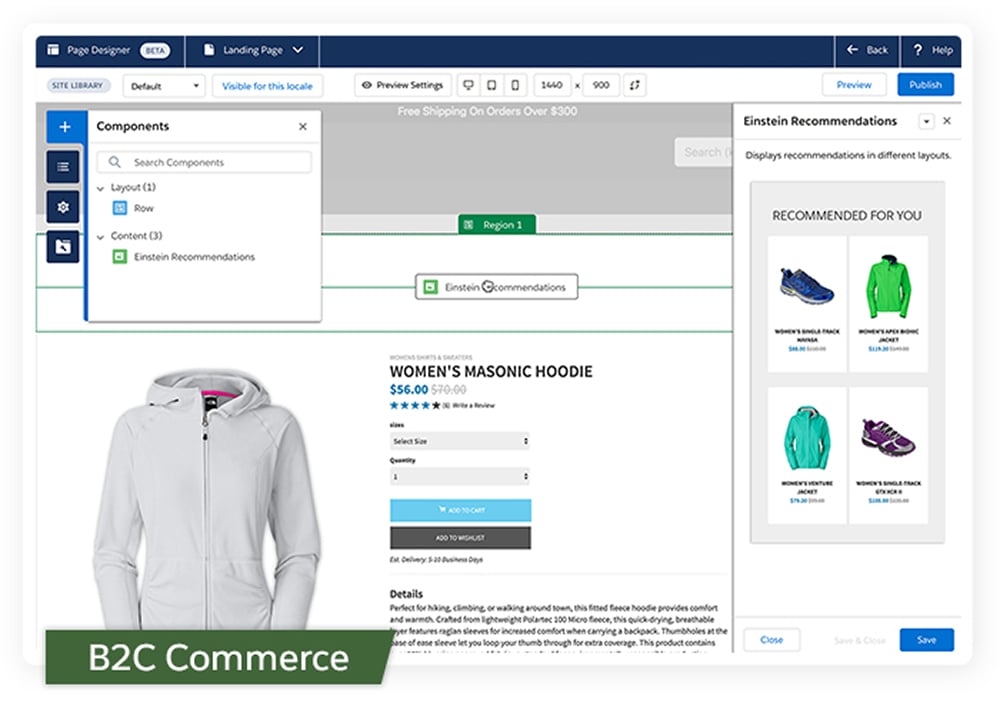 As a CRM, Salesforce allows businesses to maintain a constant relationship with their customers, potential customers and partners, and to gather and monitor their data. Firms use Salesforce to understand their clients' behaviour, connect with them on various levels and expand their business.
The cloud-based software gives businesses an overview of their customers on a customisable dashboard. Firms can also use this data to constantly improve the user experience for their products or services. Salesforce, which is currently the most popular and most widely used CRM in the world, trusted by over 150,000 companies of various sizes (including Amazon and Adidas, but also SMEs and smaller online shops), can provide real-time analysis of users and purchases and handle customer support, complaints and a variety of other CRM functions, with simple cloud storage and access. Salesforce also includes tools to facilitate internal communication between different teams within businesses, and has its own bespoke app ecosystem.
The services offered by Salesforce: an overview
So how does Salesforce actually work?
To understand what Salesforce does, you need to get to know the various services and products it offers and when to use them. Salesforce provides access to a vast range of products and services in the cloud, social media and mobile domains: here are the main ones, some of which are specifically designed for people who manage online shops.
Salesforce Commerce Cloud: this is the ideal service for people who run online shops or stores selling any form of goods. It helps brands to create smart purchasing experiences on mobile devices, social networks and online, and even in stores.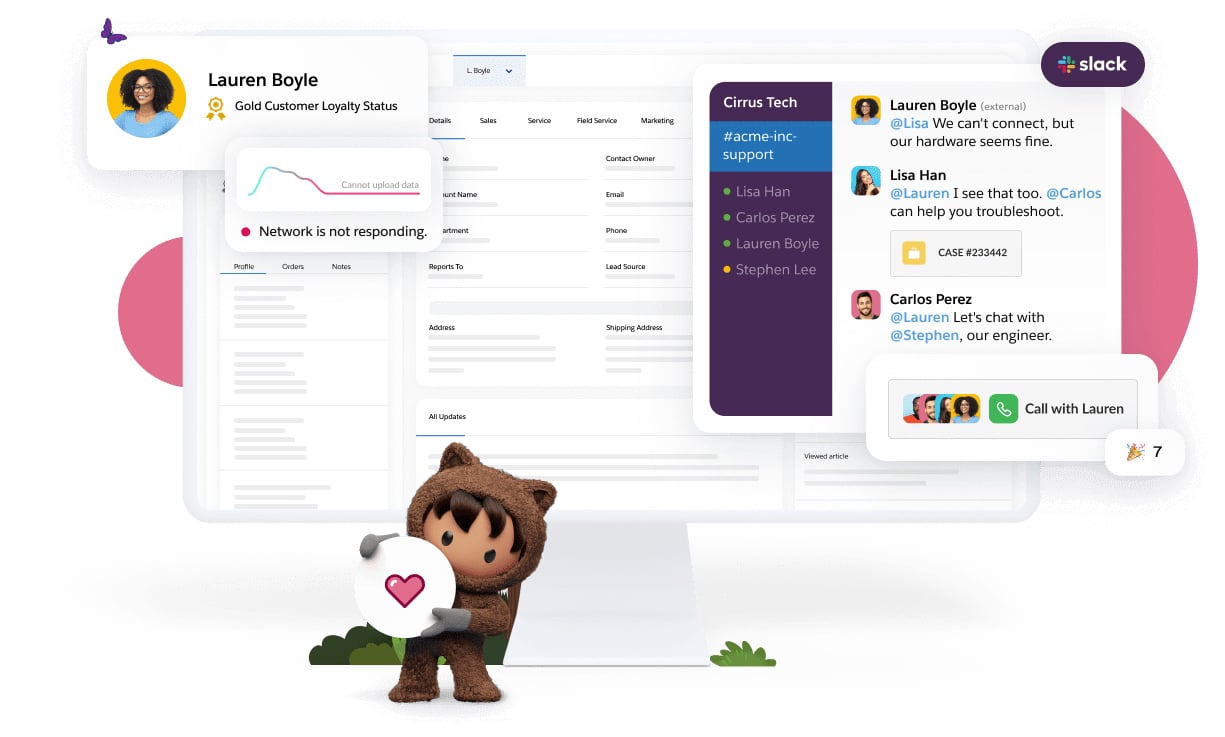 Salesforce Marketing Cloud: this powerful digital marketing platform can be used by firms' marketing managers and experts to gain an overview of a customer's entire purchasing process, as well as to manage emails and social media and create content.
Salesforce Sales Cloud: a platform offering advanced tools for increasing sales. It allows you to manage all stages of the sales process, from marketing to customer support.
Salesforce Service Cloud: this platform helps customer support operators to work more quickly and from anywhere they like. It has numerous benefits, including offering a complete overview of customers and their past interactions with the business, allowing problems to be solved more quickly.
Salesforce Community Cloud: this is a social platform that provides a simple way to connect and communicate with partners, customers and employees. You can create your own communities and exchange data, images and much more besides.
Salesforce App Cloud: this allows you to create custom apps that are then hosted on the Salesforce platform. It includes a series of development tools for creating websites, apps, custom actions and much more.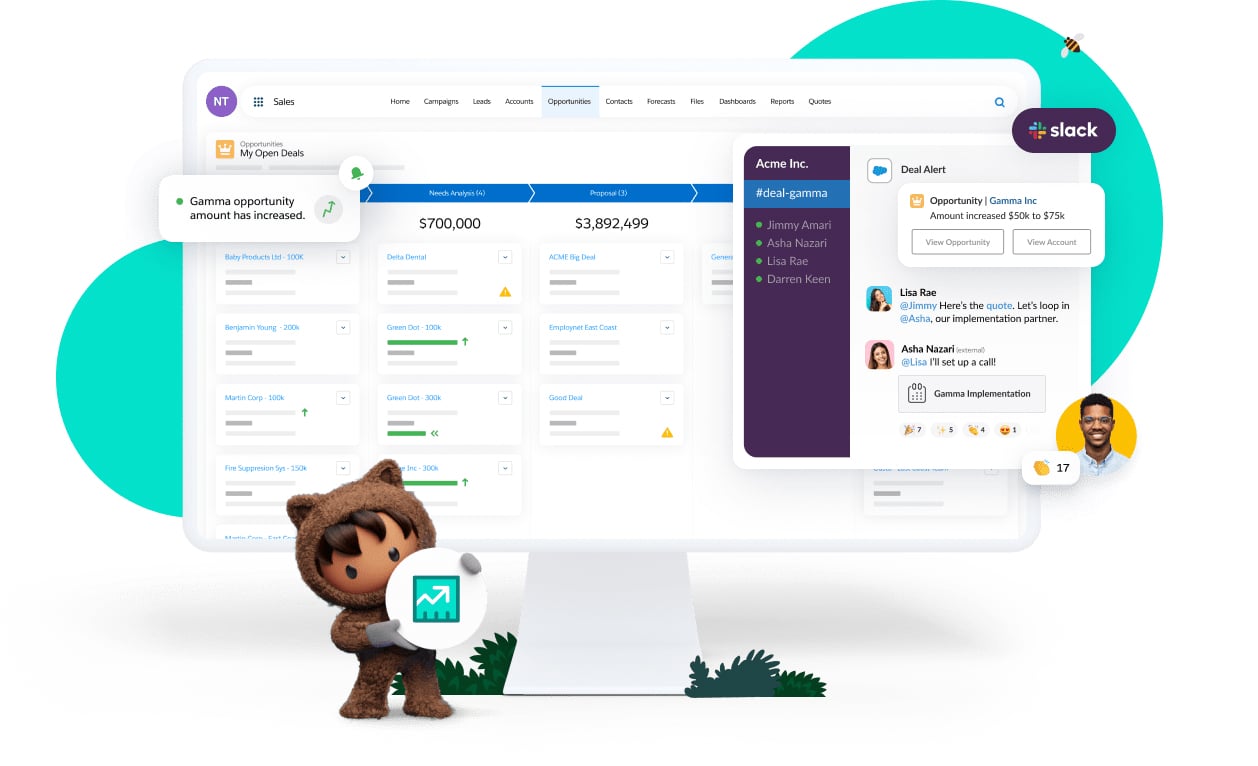 Salesforce allows you do practically anything you can think of to increase sales: from creating simple and engaging purchasing processes and ways to expand your products or services into multiple geographical areas very quickly to simplifying the entire sales machine and combining engagement data from physical and digital shops.
Salesforce is therefore a multifaceted piece of software featuring various tools that enable businesses to take care of the customer acquisition, sales and after sales processes.