Online stores are the landing place for many consumers. We talk about "landing" because more and more people are arriving at online stores at the end of a long journey which, very often, begins on social media: it's there that they become aware of the brand and what eventually leads them to the online store.
Instagram is one of the most popular apps for discovering new brands. Here we explain how to sell on Instagram and how to use the main features for shopping on the app.
More and more businesses are selling on Instagram
Until fairly recently, what drove people to open Instagram was the desire to see how friends and celebrities were living their lives. But this is changing: now, people often turn to the app to discover new brands in the shop section, or to buy products recommended by the influencers that they're following. And Instagram knows this only too well:
"In a survey commissioned by Facebook, Inc., 81% of respondents said that Instagram helps them research products and services."
Data on the use of Instagram 
Let's have a look at some data that tells us about the app's user base so that we can assess whether this is a strategic channel for your business. The data was collected by Statista and refers to 2021.
The average age of people who use Instagram:
1% are aged between 25 and 34

9% are aged between 18 and 24
People who are over 65 represent just 2.3% of users. So, if your firm sells products to an older demographic, Instagram might not be the right channel for you.
The gender breakdown, however, is pretty evenly split: according to a SproutSocial article, 51% of users are women and 49% men.
As of 7 September 2021 there were around a billion monthly active users on Instagram. And, on average, they spend about 53 minutes a day on the app. Much more than you might expect!
But now we come to the numbers that interest us most: 90% of accounts follow at least one business. And they're happy to do so, since users think that brands on the platform are:
Popular (78%)

Creative (77%)

Entertaining (76%)

Committed to looking after their community (72%)
Businesses with a presence on the app are therefore viewed very positively. The key to success is knowing how to present your brand on the app appropriately and professionally.
All the tools for selling on Instagram
There's no one way of selling on Instagram. There are many. Let's take a look at the tools that the app provides and how to use them.
Shoppable posts: what they are and how to create them
Shoppable posts allow users to find out everything they need to know about products in an image and, in just a few steps, purchase them from your online store. They appear in the feeds of the people who follow you, and can be told apart from "non shoppable" posts by the shopping bag icon as shown in the photo below.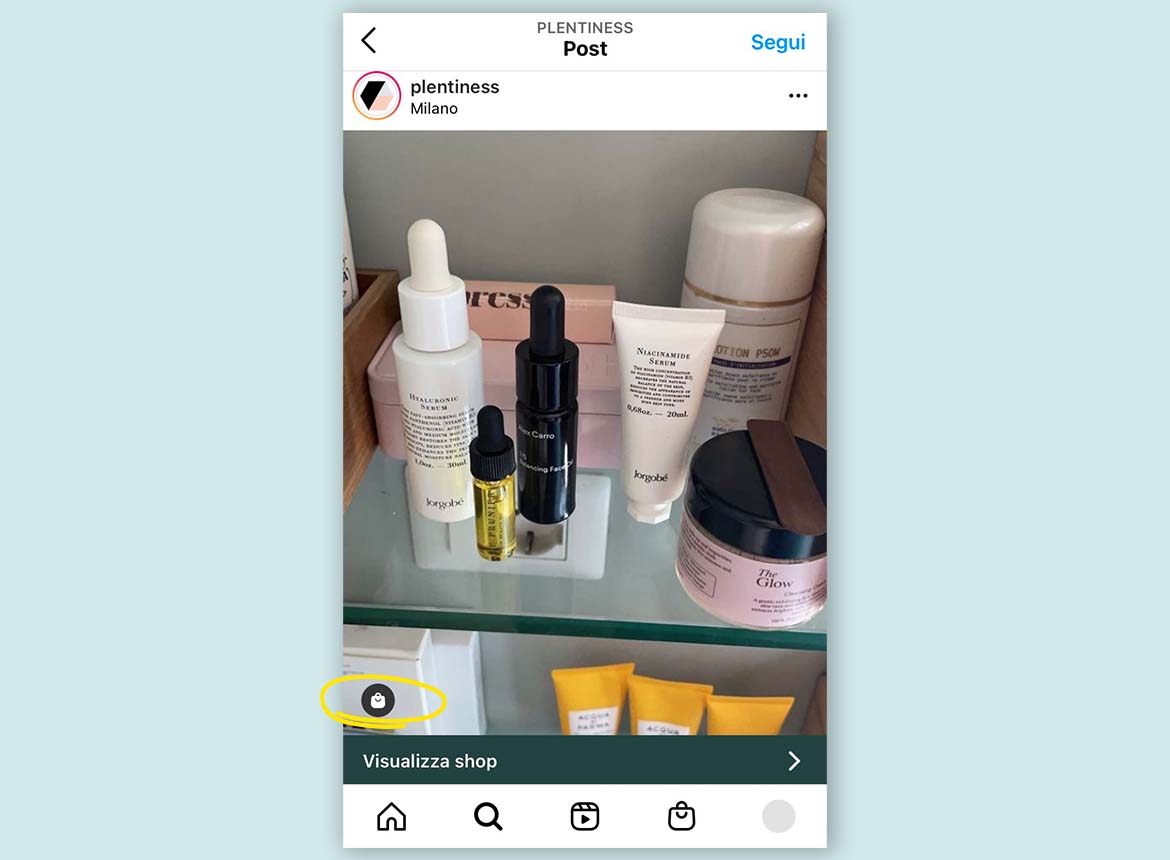 By clicking anywhere on the image, users can see all the product tags that you've added.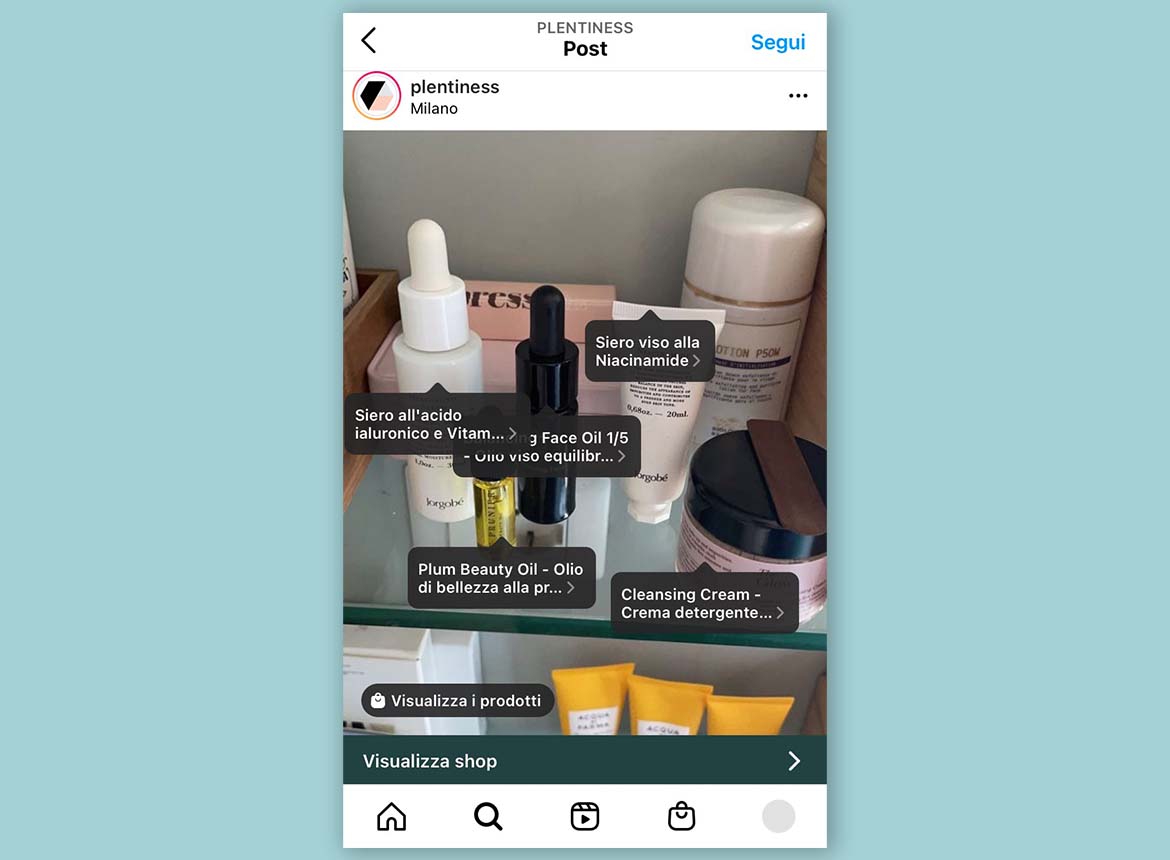 Users can click on tags to view information about the product, the price and, through a CTA (call to action), purchase the product from your e-commerce site in just a click.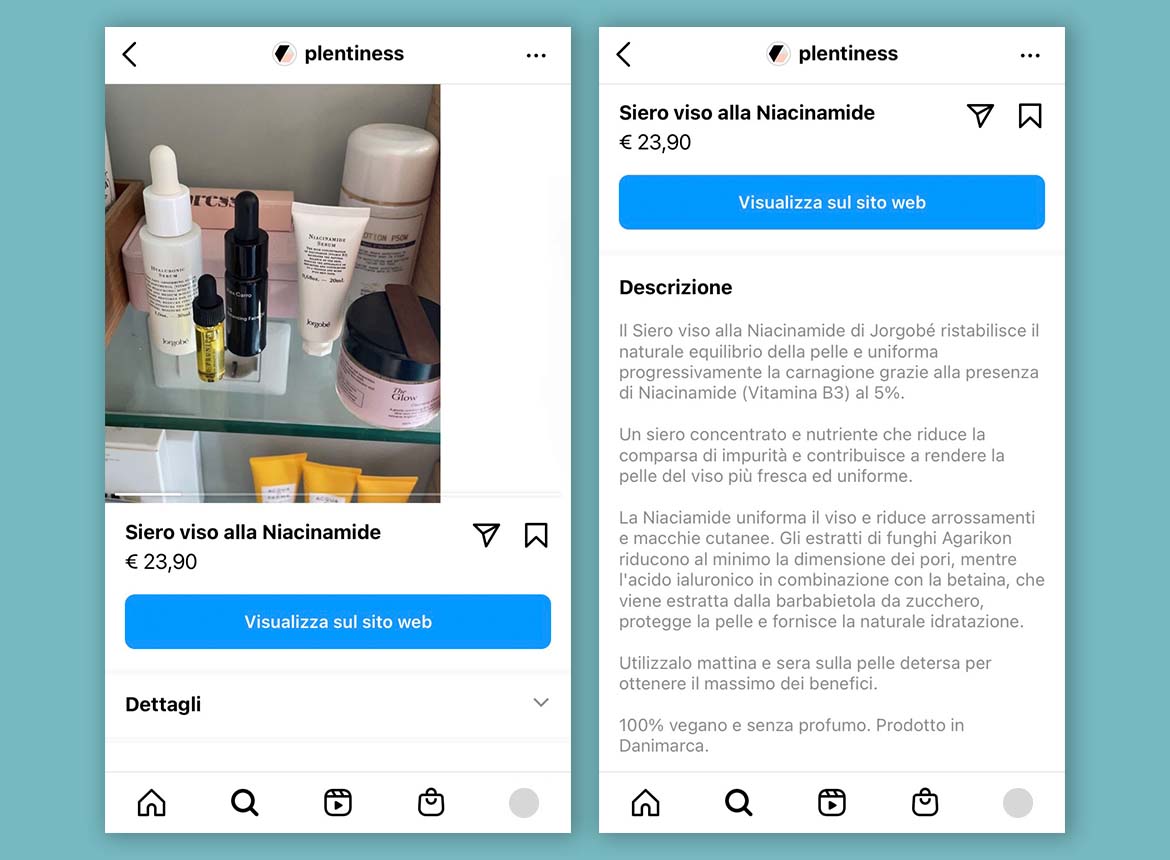 How do you create a shoppable post?
Set up your business account: you'll find the option "Switch to Professional Account" in account settings.
Link the account to your Facebook page with your product catalogue – if you haven't already created a storefront, do this now.
In the post, add tags to your products. How? Simple: select the image, then "Tag Products" (which appears below "Tag People"); choose the tags from the product catalogue. After publication, posts with tags will appear in the feed with the shopping bag sticker.
Shoppable stories: shopping through stories
"To give people a faster way to shop on Instagram Stories, we are enabling businesses to add product stickers in stories so that they can easily integrate products into their stories content." This is what Instagram said back in September 2018 when it expanded shopping to include stories.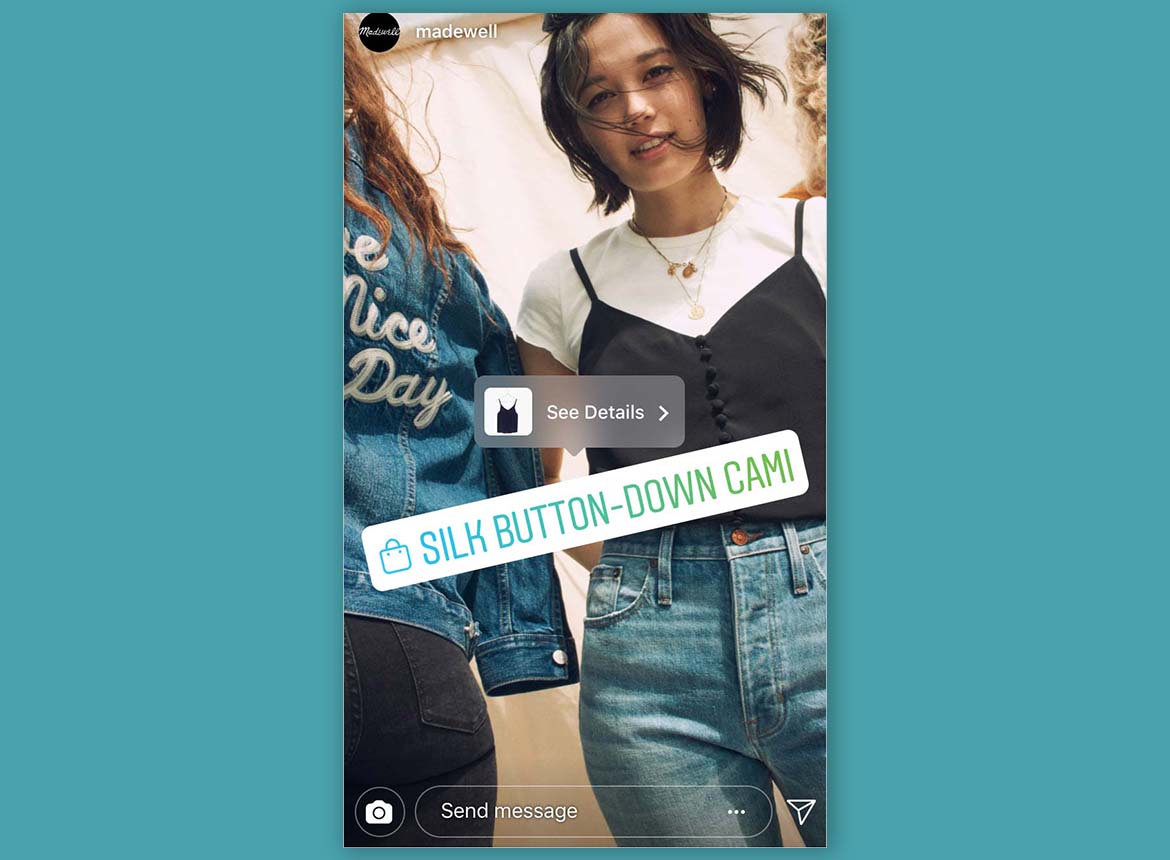 Just like for shoppable posts, all authorised business accounts can add the shopping bag icon to their stories to indicate that products are available for sale. Users can interact with this content exactly as they would a shoppable post.
How do you add the shopping icon to a story?
Create your story.

Select the "Shopping" sticker from the sticker area.

Select the product from your Facebook catalogue.

Customise the colour and position of the shopping bag – it should be clearly visible but not get in the way of the image.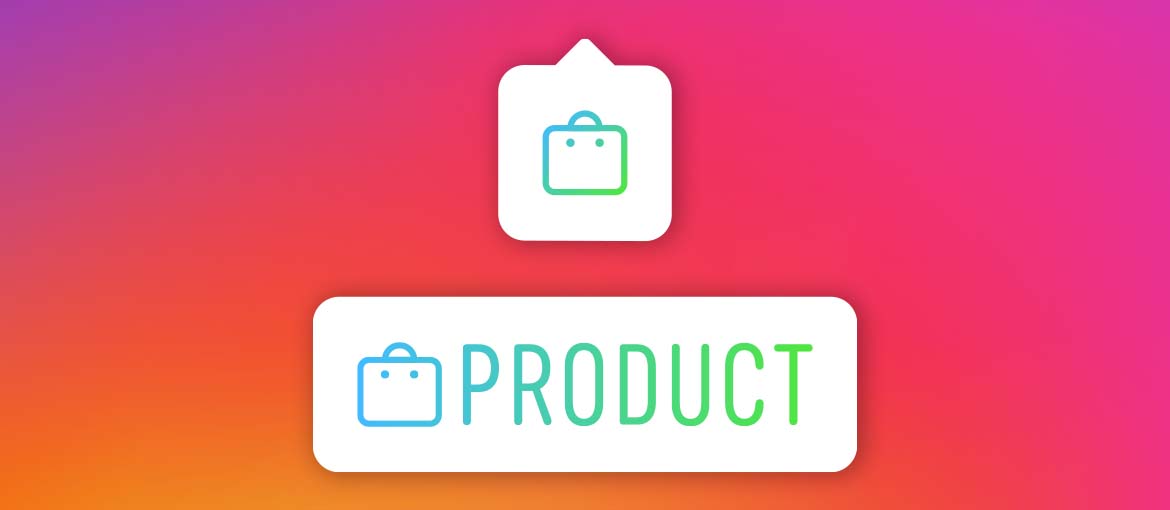 Sponsored posts and stories
Sponsored content is (non shoppable) posts and stories that are also shown to users who don't follow your account. It's a paid service that's useful for raising awareness of your brand among a target audience of potentially interested people.
How do you create sponsored posts and stories? The process is the same for both types of content:
Switch to a business account.

Select the image/video to post.

Click on "Promote" (in the bottom right of posts; in the "Other" section of stories).

Choose your objective and your audience, decide on the budget and duration for your sponsorship, and then select your payment method.

Add a CTA and link to the page on which you want people to land – for example, on a product page in your online store.

Press "Confirm".
Stories or posts will be published with a label indicating that it's sponsored content, as shown in the image below.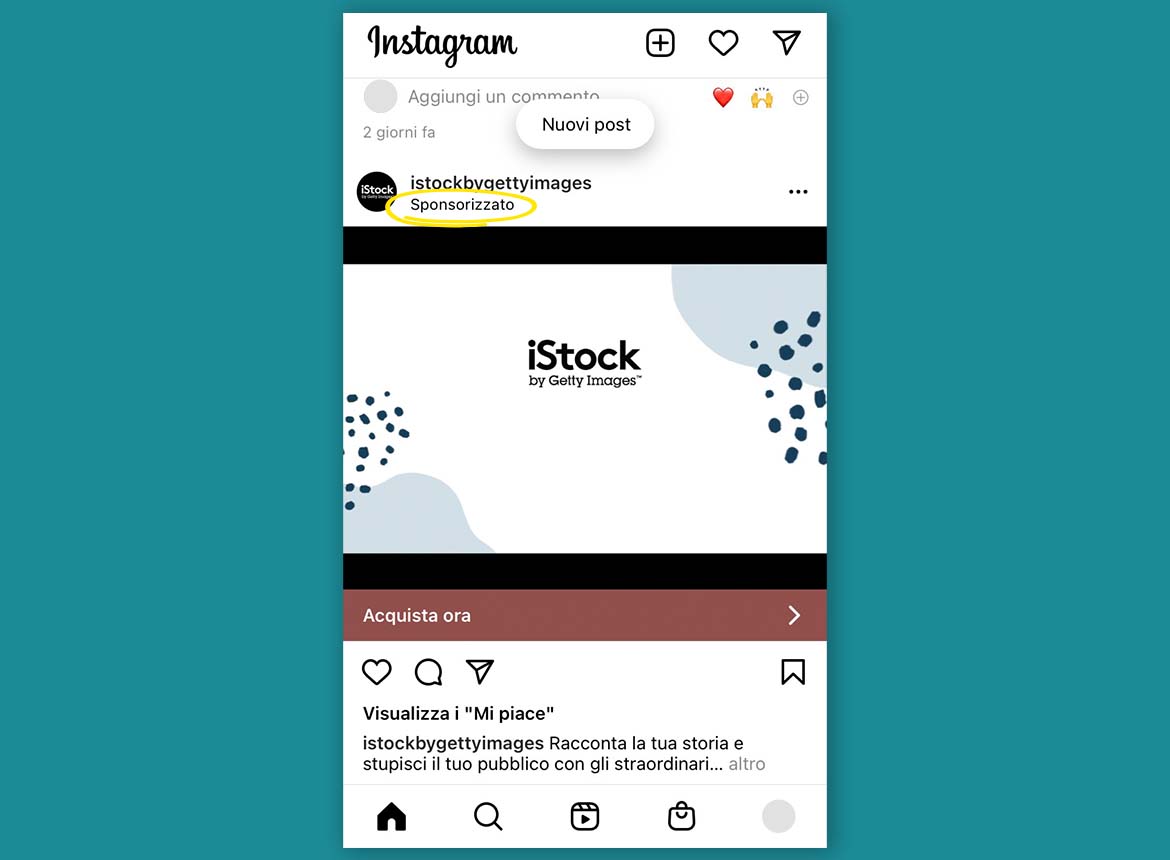 Collaborations with influencers
How do collaborations with influencers work? Collaborations with influencers involve people with lots of Instagram followers agreeing to talk about your brand (and to recommend it) in their posts and/or stories. This effectiveness of this form of promotion, based on word of mouth and social proof, depends on the degree to which the influencer's audience is "on target".
 Collaboration between brands and influencers is usually remunerated, and the budget depends on the size of the influencer's following – if they're a micro-influencer, for example, their remuneration will be less.
If you don't have the budget to spend on influencer marketing activities, it's worth trying the "#gift" route. Give a free sample of your products to an influencer who you believe is a strategic fit for your business (perhaps turning to micro-influencers instead) and cross your fingers: if they like the products, the influencer might talk about and recommend your brand spontaneously. There's no harm in trying!
How to get in touch with an influencer:
First, decide on the objectives of your influencer marketing campaign. These should be clear before you make contact.

Look for influencers who will be a good fit for your brand, share its outlook and values.

Contact them via a DM or, if it's in their Instagram bio, by email. Tell them briefly about your brand, explain what the goals of your Instagram strategy are, what you expect from them and how much you're willing to pay.
… And then wait for a response.
Practical tips for a slick (and strategic) Instagram account
There are so many tips we could give you for selling on Instagram that they would fill a whole new article. So here we're going to focus on those that touch on what we've just been talking about: shoppable posts, stories and content.
Post regularly. This will give the impression of a well-curated account and your followers will get into the habit of visiting your page regularly to see your latest posts.
Carefully design your posts and stories: they must be coherent with your brand's visual identity. If, for example, you have a specific brand colour palette, use it. It goes without saying that you shouldn't post poor-quality photos: when it comes to content, go for quality over quantity.
Instagram is not just about images, though: make sure any text is well-written, too. Respect the brand's tone of voice.
And choose your hashtags wisely: the more specific they are, the more they will bring in qualified traffic.
For shoppable posts: tag with care! Position them well and don't over do it.
Use stories to bring your products into the real world: show the experience that they can bring, how they can be used and how they work (for example, through tutorials). And there's more…
Stories are an effective way of raising awareness of your brand and showing everything that goes into the finished product. In other words, all your hard work. Allowing people to look behind the scenes is a great way of building loyalty.
Stories are also a great tool for social proof: share stories in which your brand is tagged!
Nurture and grow your community: for example, give out discount codes to your followers to use in your online store.
And in case you haven't got enough already, here are Instagram's tips on strategies for selling like a pro.
We've got one last suggestion, which pretty much sums up everything we've said so far: before you start working with Instagram, make sure that you've got a solid strategy. This will be your guiding light. Good luck!