Today we'd like to discuss DIY wedding invitations, and try to answer all the questions likely to pop into your head when you're trying to get to grips with them. Questions like:
How can we amaze guests with original wedding invitations?

How can we create the invites without spending too much?

Which paper should we choose?

What should we write on our wedding invitations?

When should we send them, and how?
You'll find answers to all these below, along with a few examples of truly original wedding invitations to give you inspiration.
The secret to original wedding invitations
You've probably received dozens of wedding invitations over the years, but how many can you actually remember? Probably not many. This happens because, with all the things there are to think about, invites are often more of an afterthought, and so end up lacking personality and originality. If you don't want yours to be forgotten, first consider the following aspects: the thread connecting all the festivities, the mood you want to give to the event, the location and the decorations. Done? The invitations need to fit with all of these, plus, of course, you need to add a little bit of yourselves too.
Here are a few examples of what we mean by "original wedding invitations":
Wedding by the sea? See how many microscopic details you can include on your custom invites to evoke the vastness of the ocean.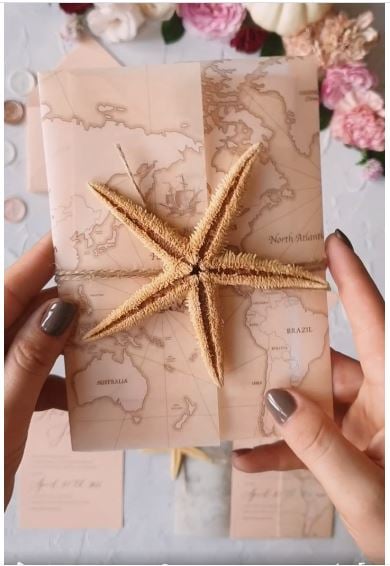 If your wedding is going to be a large informal party, convey this spirit to guests with fun and playful invitations.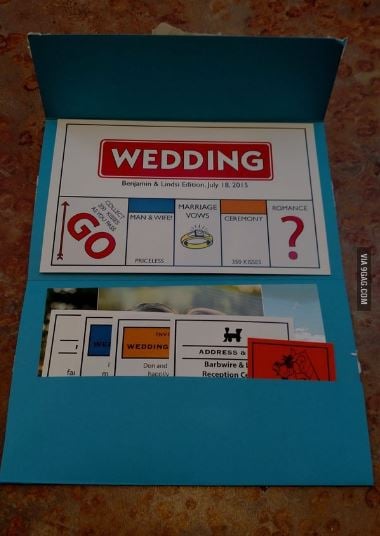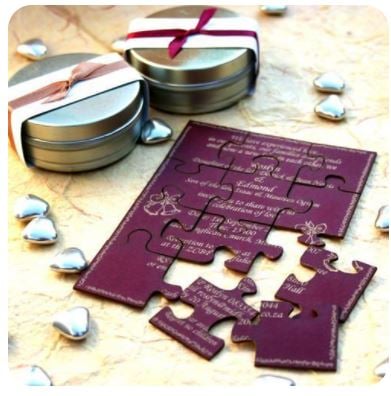 Are you tireless globetrotters (at least in normal times)? Celebrate the amazing journey you're about to go on as a couple with an invitation inspired by a passport or aeroplane ticket.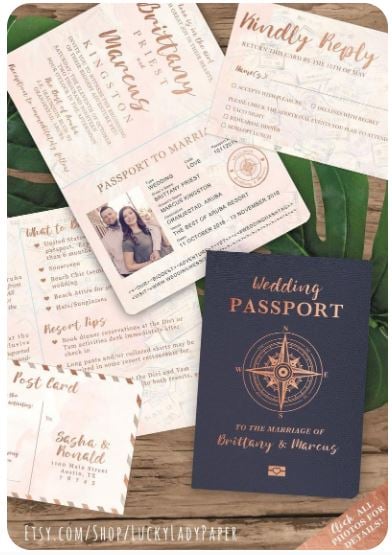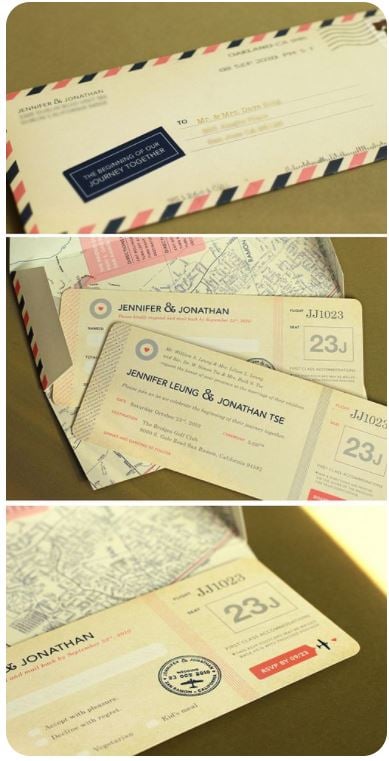 Have you chosen a countryside mansion for your reception? Do you have green fingers and a passion for gardening? If so, why not go for an invite with a natural theme, perhaps using your favourite flower or the floral decorations you've chosen for the venue. If you are of an artistic bent, you could even paint the flower on the card, or, if that's not your forte, you could send a dried flower with the invite. Here are a couple of nature-themed ideas to inspire you.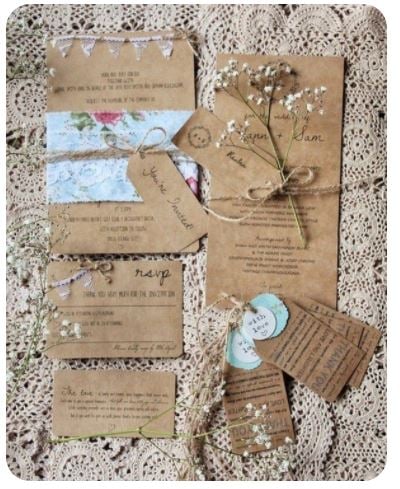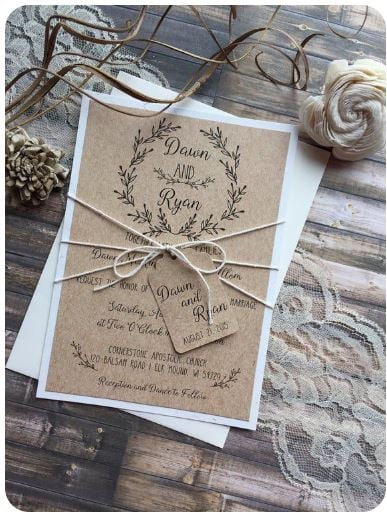 Finally, here's a great idea for cinema fanatics, or those who want their wedding day to feel like a Hollywood film: turn your wedding invitation into a retro cinema ticket! What's on? Your love story, of course!
Zero-cost tools for creating wedding invites
We've seen that you need creativity and personality to create original invitations, but that isn't enough: you also need to work out which tools to create them with. You now have a decision to make: use your craft skills and make them yourself, or rely on digital artwork.
This is great if you want to give added warmth to the invite and if you have a gift for this kind of thing. However, it's less good if you have lots of people to invite – organising the wedding will take up a lot of your time.

Digital artwork. This is perfect if you want to create a more formal invite or if you want a striking visual design. It is also the best choice if you want to save time and money.
If you decide to go down the second route – and we recommend it – here are two tools you can use to make your wedding invitations online:
In just a few clicks you will have created your own affordable personalised wedding invitations. At this point you need to add some text, which you can write by hand – more personal and stylish, but only advisable if you have good handwriting – or digitally. If you go for the latter, which fonts should you use? We recommend one that is easy to read (beware of calligraphic fonts: some can be a bit difficult to decipher) and a font size that can be read by even the most short-sighted of guests. For a classic effect we'd go for a serif font, or choose a sans serif font for a more modern invitation. Then it is worth bearing in mind some basic tips on font pairing:
Never mix more than two different fonts;

Try pairing a sans serif with a serif font (or a legible calligraphic font);

If you want to play it safe, use fonts from the same family but with different weights.
And if font pairing is not your cup of tea, you can use Fontjoy to help.
Ok, that's sorted. Next… what should you write on the invites?
What should we write on our wedding invitations?
First of all, make sure the invitations fulfil their main role of providing information. Don't forget to include the date, time and place of the ceremony, and the time and location of the reception. You can also add maps, useful advice for getting to the locations or information on transport. And of course, you also need to request an RSVP.
Here's a tip: if you are inviting some guests only to the ceremony and not to the festivities afterwards, or vice versa, we recommend opting for two separate invites – the ceremony invite is usually bigger than the invitation for the reception – to avoid any confusion.
As well as the practical information, you could also add a couple of lines you have written yourselves. We know how difficult it is to find the right words for this: we recommend keeping it simple and spontaneous. Rather than famous love-related quotes, corny expressions or lyrics from the most heart-wrenching long songs, go for something simple that still has the desired effect. Something like "we'd love to celebrate our day with you". OK, it may not be all that original, but it comes from the heart.
One final piece of advice regarding the text: ask your friends and relatives (but only if they are invited to the wedding!) to proofread everything you've written. The more people check it, the more likely you are to spot any mistakes.
Now all that remains is to decide how to get the invitations to your future guests.
Digital or paper? And if paper, which type?
Perhaps we're biased, but we're traditionalists in this respect – we love a good printed invite. We like the idea that the invitation will be kept in a drawer, rather than a folder somewhere on a PC.
So which paper should you print them on? The first thing to look at is the weight of the paper: one that is too thin could crease or tear. We recommend going for paper of around 170 gsm.
Then you need to decide on the type of paper. Here your choice is practically boundless:
For a classic, stylish effect, you could go for a special paper, such as pearlescent paper, watercolour paper or a matt- or gloss-coated paper.
Want to give your ceremony a green touch? Print your invitations on recycled paper and let your invite spread the word about sustainability.
If, meanwhile, you want to amaze your guests with something really unusual, you could go for plantable paper, which will double as a small gift for the people you're inviting. Never heard of it? Have a read of our article. (link all'articolo sulla carta piantabile)
As for the printing, you can leave that to us – it will all be handled conveniently online. If you like, we can also help you choose the most suitable paper for your invitations.
When and how should I send the invitations?
Weddings have their own rituals and traditions, but these can always be upended to make the event more unique to you. The same goes for delivering invites: there are various rules, which you can choose to follow or to take with a pinch of salt.
Tradition dictates that paper invitations should be sent by post or hand-delivered. We hasten to add that we would turn a blind eye for invites that have a long way to travel: in this case ignore the rule and go for the convenience of a digital invite.
When should you send your invitations? The most meticulous rule-followers would respond "two months before the ceremony". This provides enough time for guests to make plans, but isn't too early for them to let you know whether or not they can make it. However, tell anyone who lives abroad the wedding date as soon as it is confirmed – even an informal message would do, just so they can book their flights at reasonable prices. Then you can send them the 'real' invitation two months before the event.
Finally, if you really like to do things properly, a few days after the wedding you could send guests a card to say thank you for attending. But this opens up a whole new can of worms. If you want to do this too, a lot of the advice we've given you above will come in handy again.
Need customisable items for your wedding? check out our wedding stickers, wedding menus or wedding order of service booklets!