WooCommerce: how to build your own online shop on WordPress
After our tour around the world of Squarespace we continue our in-depth review of electronic commerce with a look at WooCommerce, one of the most popular resources for building online shops.
WooCommerce: what it is and how it works
WooCommerce is a plug-in: a program that interacts with another piece of software to extend its functions. In this case, WooCommerce lets you build your own online shop on WordPress and start selling products or services of any type online.
How does it work?
If you already have a WordPress site, installing WooCommerce takes very little time or effort: all you need to do is install the plug-in and start customising the various sections of your shop. You're sure to feel at home: the interface is very similar to WordPress, so you'll have no issues finding your way around.
For new arrivals, meanwhile, the platform provides a detailed step-by-step guide to putting together your shop, customising the design and sorting out its maintenance, security and privacy settings.
WooCommerce: installation costs
Let's start with the good news: WooCommerce is free in its basic version, so you can add it to your WordPress site at no additional cost. However, if you're not satisfied with the standard version, you'll have to pay for extensions to add extra functions to your site. To get an idea, have a browse of the Extensions Store, where you'll find all the official extensions available – from plug-ins for setting up a live chat with visitors to your online store to extensions for monitoring your website's data and traffic.

Now let's see whether WooCommerce is the right option for you.
Who would we recommend it to?
Definitely people who already have a WordPress website, as building your online shop only takes a few steps, and it is quick and easy to configure.
WooCommerce is also a valid alternative for people who need more control over their online shop, but don't want to spend vast sums on commissioning a programmer to develop one for them. The platform contains a vast array of extensions that allow you to add extra functions to your store, customise it, configure it to suit your needs, and improve the back end and the purchasing experience.
Finally, we would recommend it to small business owners with a limited budget to invest, who can use the basic version of WooCommerce to create a perfectly functional online shop for free (or almost).
Do you fit one of these profiles? Then read on!
The advantages of WooCommerce and its most useful functions
In our opinion, the WooCommerce platform offers three clear benefits:
It is simple to use, especially for WordPress users. And, with a bit of patience, anyone can learn how to use it.
It is flexible, offering you the chance to personalise and improve the performance of your online shop with a vast number of extensions.
It is scalable, meeting the needs of everyone from a small shop to a large multinational.
Plus it has lots of other excellent features:
It has an app that allows you to manage your business from your mobile, whenever and wherever you are. You can use the app to add new products to the website, process orders, monitor sales metrics, and receive notifications every time a review is published or a purchase is completed, or when it's time to restock.
You can set your own shipping options. You can choose to provide free shipping or let the system calculate the shipping automatically and in real time. And you can decide whether to send your goods all over the world, or just to certain countries. The choice is yours.
There are many customisable payment options. Users can pay using major credit cards, bank transfer, cheques or cash on delivery, and there are 140 different payment options you can add, including WooCommerce Payments, Stripe, PayPal, Square, Amazon Pay, Apple Pay and Google Pay. Meeting the needs of your clients at the checkout stage will help to reduce the number of abandoned carts, which are always a real headache!
WordPress is also a blog platform. You will therefore have a perfectly functional blog attached to your online shop to help you make yourself known and direct traffic to your online shop, and so increase sales.
Given that we've talked a lot about personalisation… Let's see how far you can push it.
Examples of online shops built using WooCommerce
Let's have a look at three very different online shops: you 'll be amazed to know that they were all built using WooCommerce.
Björk's website.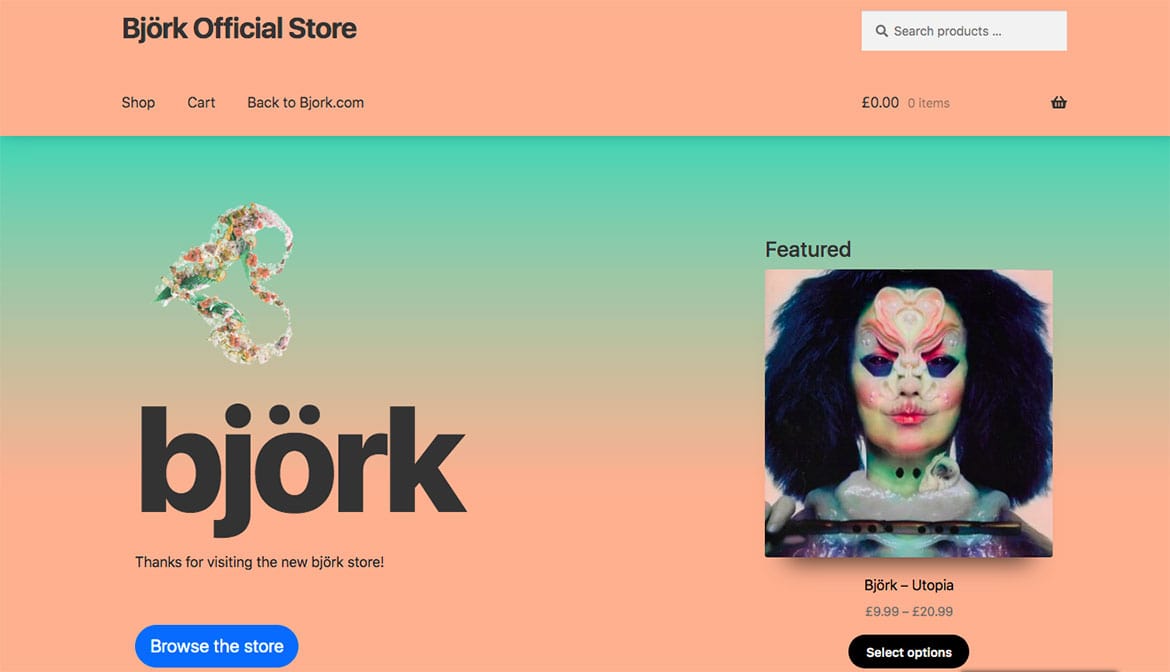 The Heggerty site, a platform providing useful resources for people teaching pupils to read.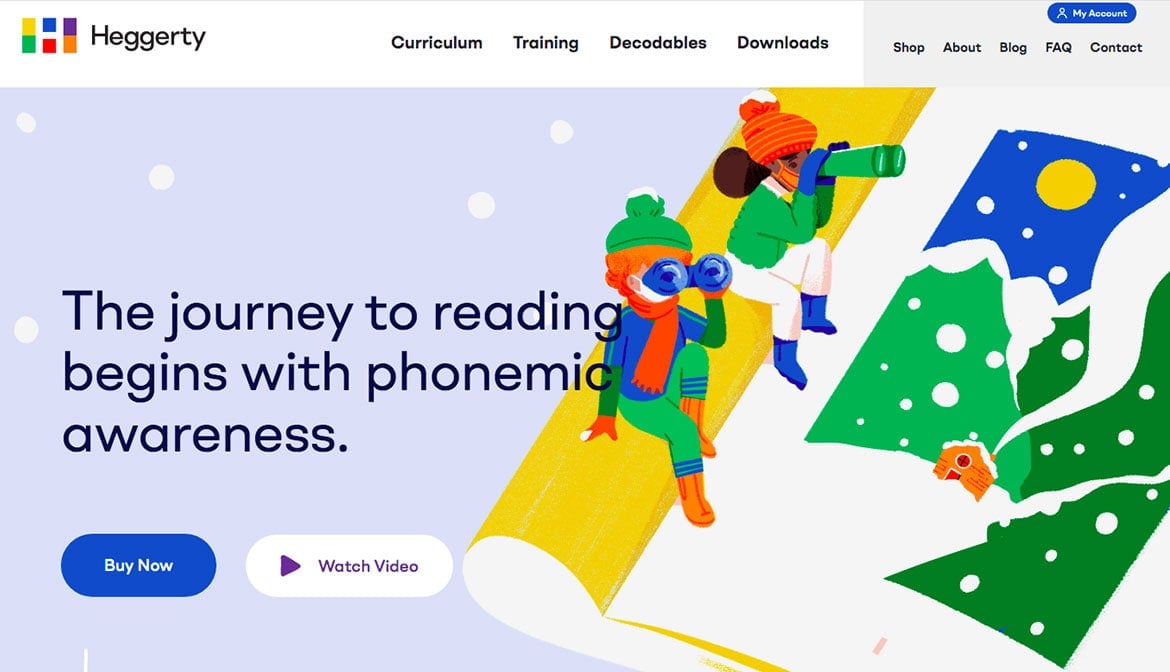 The online boutique Shop Catalog, which sells books, clothing and homeware items.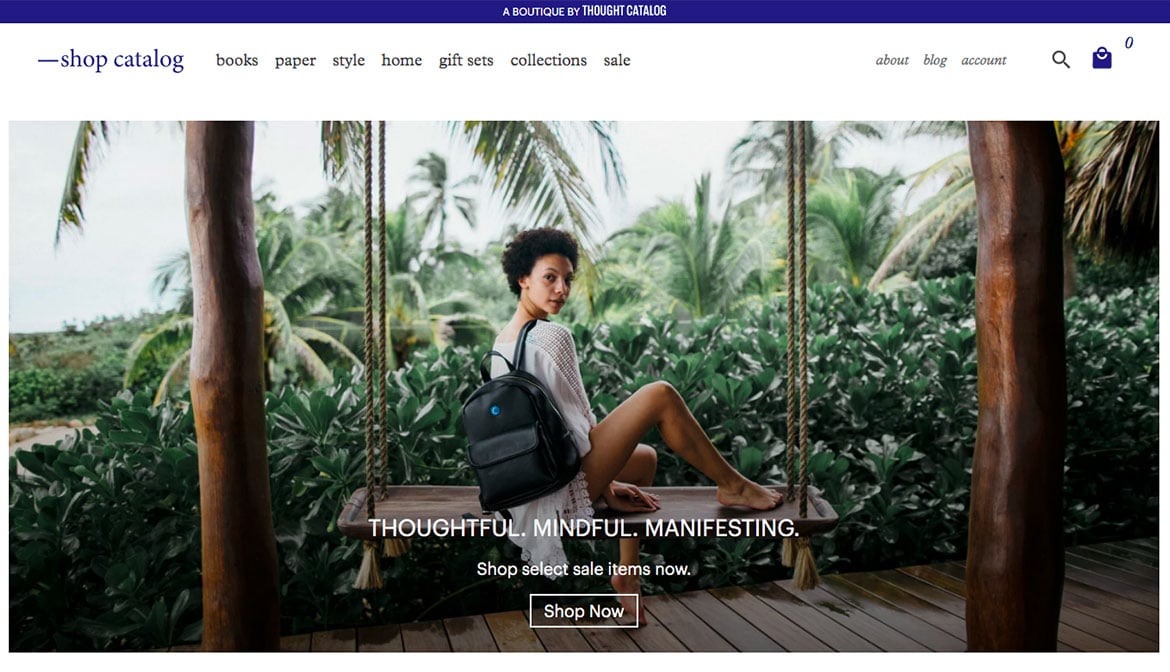 If you want to continue browsing and get more inspiration, the Showcase section of the website contains a large collection of companies and brands that have chosen WooCommerce, as well as revealing which extensions they added to their online shop.
A few alternatives to WooCommerce
Of course, WooCommerce is not the only option if you want to create an online shop: there are a vast number of alternatives. Some of them advertise themselves as convenient 'complete packages': independent platforms containing all the tools you need to create your website quickly and easily from scratch.
We've already discussed Squarespace, a online shop builder designed to be suitable for those with few or practically no IT skills. Other options include:
Shopify, a platform for creating online shops based on customisable themes. The control panel allows you to manage orders, payments, shipping and marketing activities.
Magento Commerce, a fast and intuitive way of building your online shop which allows you to personalise the layout and add various extensions for extra functions.
All these site builders are undoubtedly much easier to use than WooCommerce (and therefore perfect for beginners), but the opportunities they provide for personalising your website are far more limited. And, importantly, they are all paid services. Having said this, there is no perfect one-size-fits-all solution: the best option will depend on your requirements. So keep reading and learning: we'll try to give you a hand.