Cross-selling is a sales technique that pushes customers to buy additional products or services that are connected or complementary to the goods they are buying or have shown an interest in.
Everyone has come into contact with cross-selling at some point: from the server at McDonald's who asks whether you want to add fries or sauces to your burger, to online shops that offer a case to go with the smartphone you are considering on their webpage.
This is what cross-selling means: selling related products to increase the consumer's average spend or shopping cart value. It also helps buyers by providing them with a better purchasing experience, allowing them to discover new products or services they may need.
Cross-selling can therefore be used by all businesses and online shops to increase sales. Read on for our guide to the most important strategies to adopt when implementing it.
Examples of cross-selling
Not all products and services that could be offered to consumers are suitable: there is no point offering a blender to someone buying a car, for instance. Cross-selling therefore needs to be done properly, with only relevant products or services related to whatever the customer is buying suggested to users.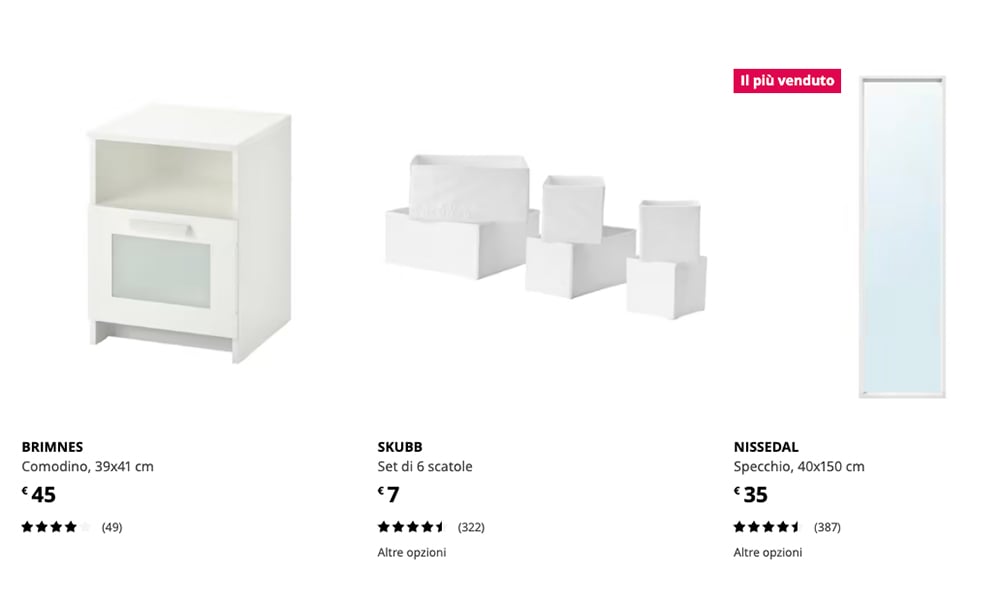 Here's a few highlights:
Related products: Imagine a customer who wants to buy a kennel for their dog. The seller could recommend they also purchase dog waste bags or an absorbent mat – these products will not be used with the kennel, but they are related because they could be useful to dog owners.
Complementary products: These are products that may be used with whatever the user is buying. For example, if the customer is buying a laptop, the seller could suggest they also buy a case or a mouse.
Additional services: Cross-selling can also involve suggesting various services during purchasing, for example an extended warranty to cover the cost of damage to an expensive item.
 Why cross sell? The advantages
 Cross-selling offers various benefits for both traditional and online retailers.
Increased profits: Many companies that sell online or in bricks-and-mortar stores have reported higher profit margins as a result of cross-selling. This is particularly true if the seller offers free or flat-rate shipping, as with Amazon Prime, as this encourages the customer to buy small extra items that do not increase the delivery cost.
Higher-value customers: Cross-selling make sales easier to come by, because it targets people who are already buying or have already bought products. Businesses and online shops can therefore take advantage of a pre-established user base and try to increase their average spend.

CREDIT Austin Distel

Improved customer experience: A good cross-selling strategy helps solve users' problems by offering additional products or services that extend or improve their purchasing or user experience. For example, if someone is buying a swimming costume in a clothing store, the shop assistant could suggest a matching sarong.
The differences between cross-selling and upselling
Cross-selling and upselling often go hand in hand: they are two different techniques, but they can also be employed together successfully. As we have seen, cross-selling is when you invite shoppers to purchase connected or complementary products or services.
Upselling, meanwhile, is a marketing technique that encourages users to buy a more expensive product of higher value than they originally intended. For example, a sales attendant in an electronics shop could show the customer a more powerful model of computer than they were originally interested in, highlighting the advantages of its more modern components which would solve the potential client's problems more effectively.
How to cross sell: examples, strategies and advice
The most important mistake to avoid with cross-selling is using it all the time and everywhere. This is not a good approach to take, as suggesting related items too frequently can annoy users, causing them to abandon their cart or leave the shop without buying anything.
It is therefore crucial to take into consideration the full customer journey and purchasing process. Here are some beneficial strategies and examples of cross-selling in an online or physical shop, including some tailored to precise moments of the shopping experience: 
On the product page: If you're selling online, it is a good idea to show a few related products on the product page, usually costing less than the main product the user is buying. For example, Amazon has a special box on its MacBook Pro page that suggests users add a keyboard, cables, mouse or extended AppleCare warranty to their basket at the same time.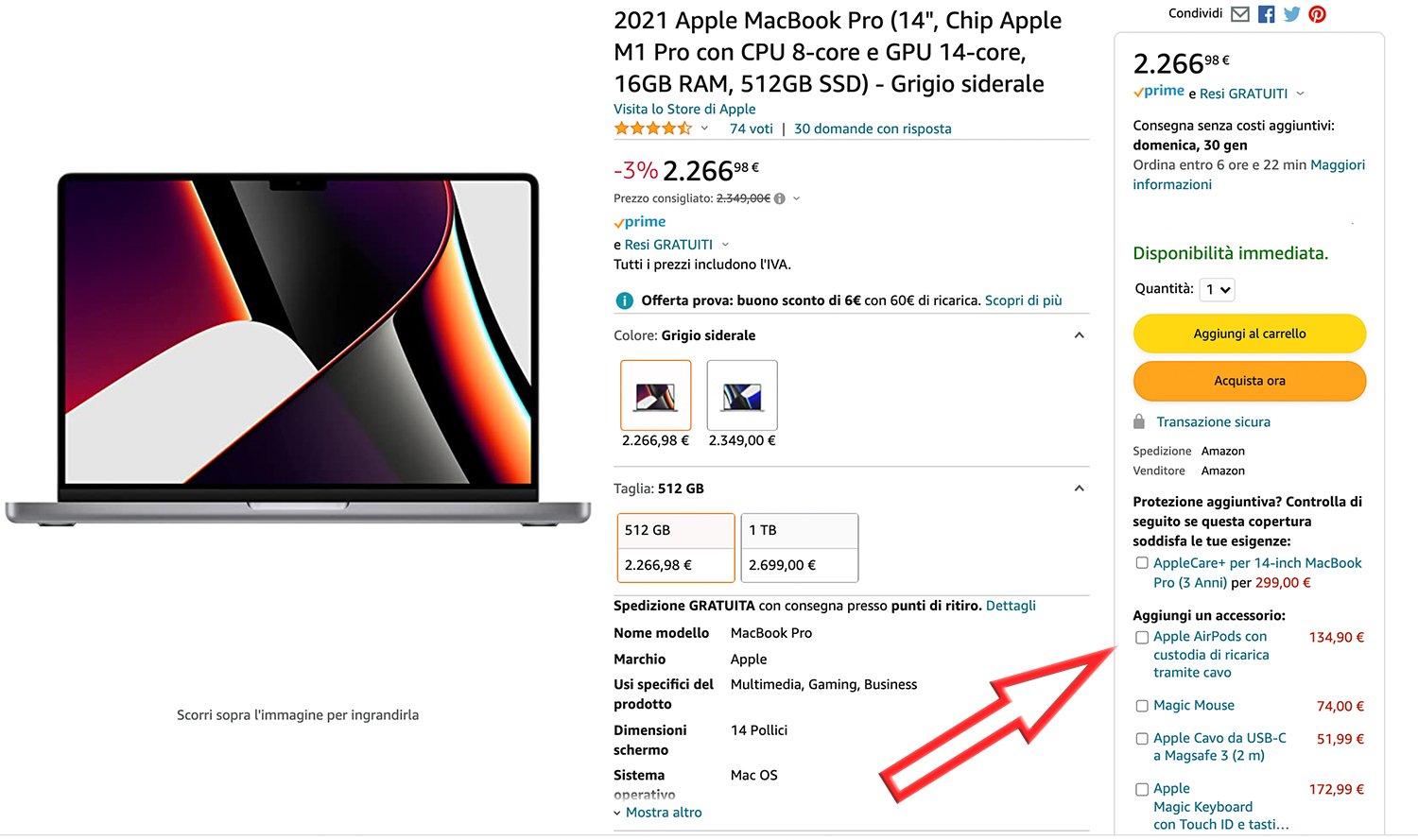 At the till/in the shopping basket: In bricks-and-mortar shops, cross-selling often takes place at the till, when, for example, the cashier asks if the user would like to add any accessories, a higher-quality shopping bag, or a bottle of water to go with their ice cream. The same can also be applied to online shopping baskets: when users are ready to pay, they are shown other low-cost products they may find useful. For example, if you are about to buy a pair of shoes from the online shop of baby clothing and accessories brand Chicco, the system offers a matching bracelet at a lower price to add to your shopping cart.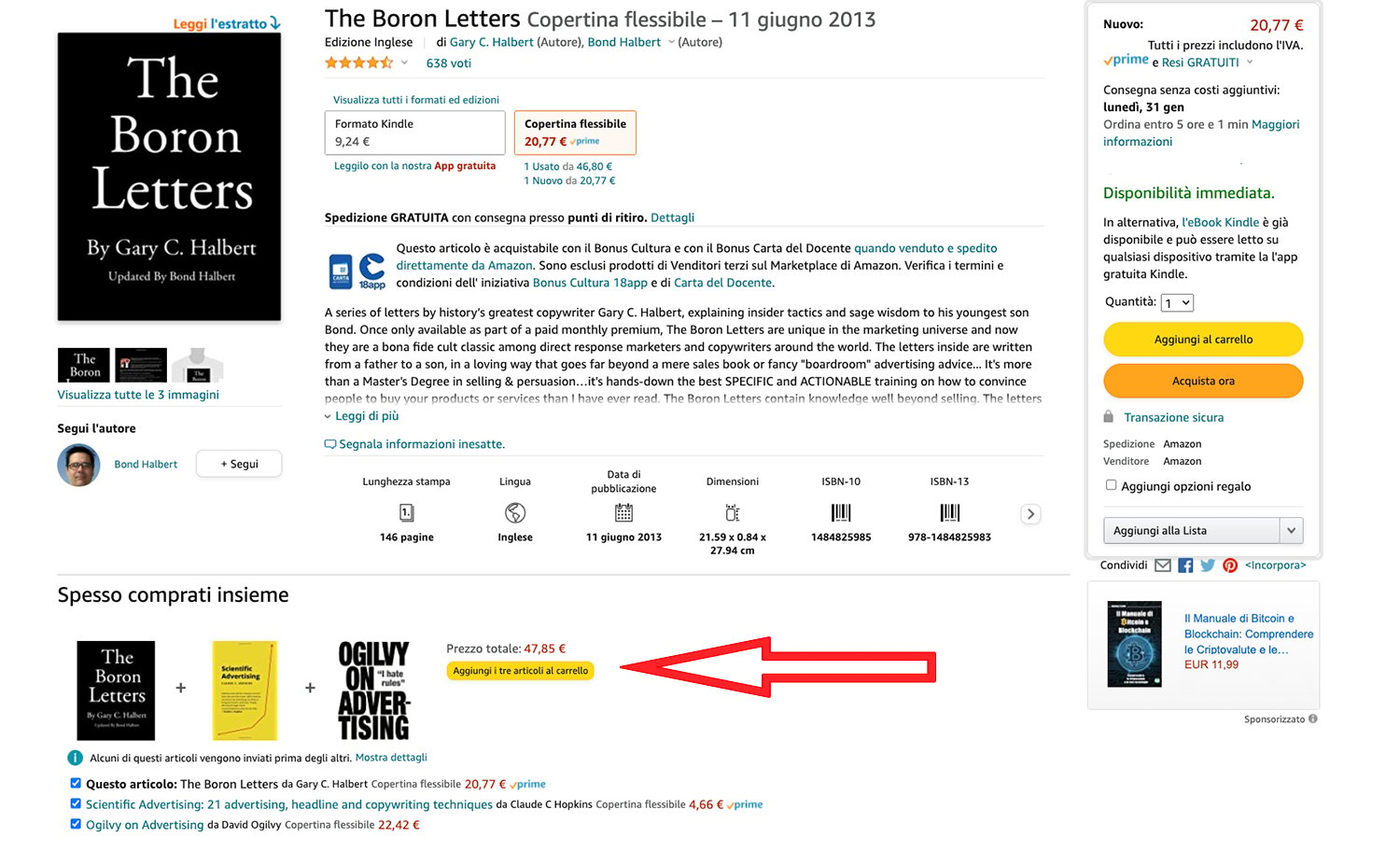 Offering products in bundles or bought together: With online retailers, users typically see a product and then land on the sales page. This is the perfect time to suggest related goods or services or bundles, for example a pack of items that cost less when bought together. Alternatively, you can create a selection of products to go with it – the section Amazon calls 'Frequently Bought Together' – to encourage users to buy similar items.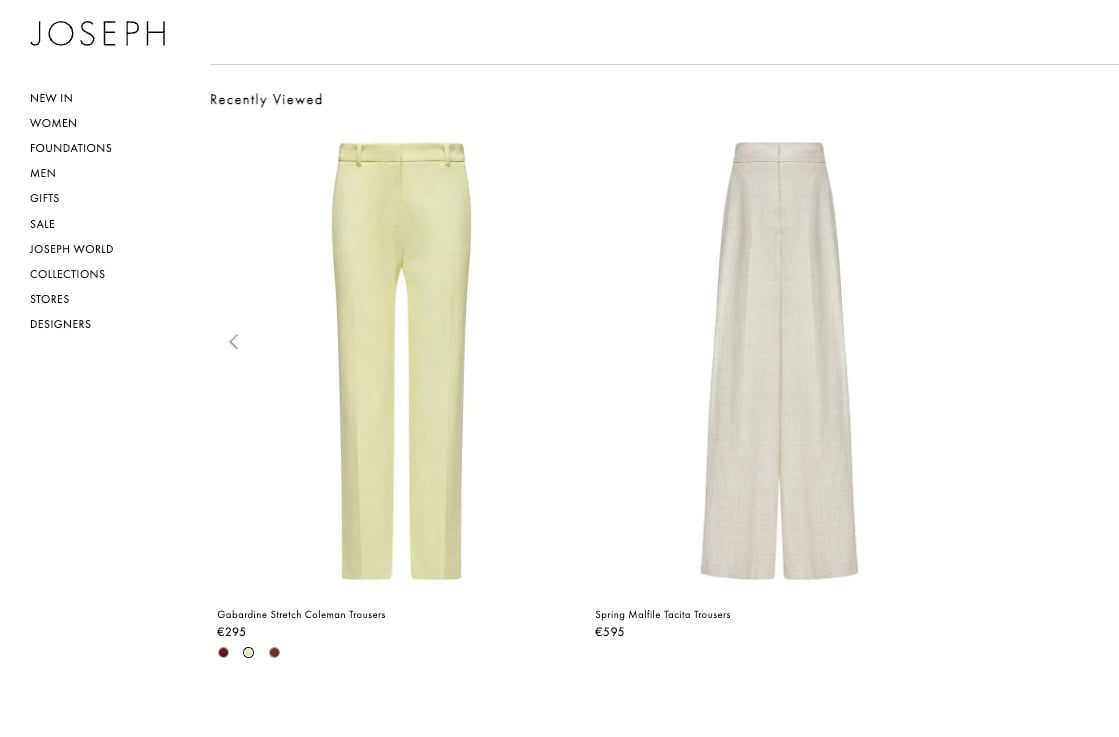 Recommending recently viewed products: Reminding users of the goods they have looked at in the past can be useful for online shops with recurring visitors, as it may prompt them to buy these items the second time around. One brand that does this very well is the fashion retailer Joseph, which places recently viewed products beneath the description of other items.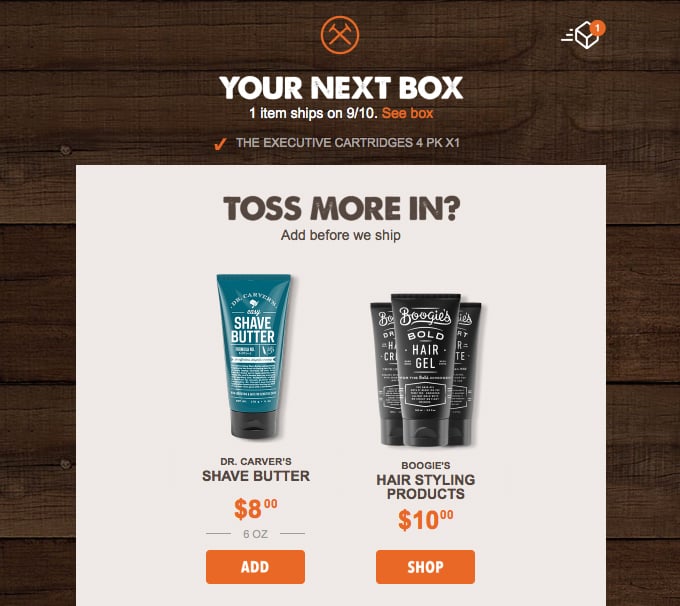 Recommending products after the sale: Online shops also use cross-selling after a sale has been completed, on the 'thank you page' that confirms the purchase. This is the perfect place for complementary products or discounted services.
Sending an email: Email marketing can be a very useful way of promoting cross-selling. If the user does not add a complementary product during their purchase, you can send them an email when it is still fresh in their mind and when they still have their wallet at the ready. Dollar Shave Club, a men's shaving brand, sends emails to remind customers about its products and improves the purchasing experience as a result.
Cross-selling platforms and tools
There are various platforms designed for cross-selling, but the best-known options for online retailers include Shopify, WooCommerce, Magento and BigCommerce. Each of these platforms has plugins that make recommending products through cross-selling simple.
Some examples are Also Bought for Shopify, Personalized Recommendations for BigCommerce and Product Recommendations for Magento and WooCommerce.
If you want to create bundles of products or services, one option is Veeqo, which is compatible with all platforms. There's also Product Bundles for WooCommerce and Bold Bundles for Shopify.
You can use cross-selling within the shopping basket in Shopify with In Cart Upsell & Cross Sell, or on the thank you page with ReConvert Upsell & Cross Sell. These are just a few of the hundreds of tools available for each e-commerce platform; you have myriad options to choose from.
It is therefore clear that cross-selling can be a very powerful way of increasing both turnover and customer satisfaction, for traditional shops and online retailers alike. It does not require major investments, but it is best to have a clearly thought-out strategy based on the items you sell, to ensure your cross-selling increases the average spend and the value of your customers.