The first thing that comes to mind when many of us think about digital printing is the wide range of paper formats available: flyers, business cards, posters, catalogues, etc. But who said that digital printing and paper is the only show in town? The latest fabric printing techniques allow almost any type of photo or design to be reproduced on natural or synthetic textiles with excellent results.
Digital fabric printing has made high-quality products accessible to those who only want to order small volumes of printed goods, continuing the trend towards mass customisation that is sweeping through many sectors, from fashion to marketing to interior design. Thanks to modern fabric printing techniques, today it's possible to produce limited quantities of textile products cheaply and quickly. Photos, colours and designs can be transferred to various materials without any particular creative or production constraint.
Digital fabric printing is used in the advertising and trade fair sectors to create soft signage like flags, banners, displays and gazebos, and in the interior decoration sector to produce cushions, curtains and decorative textiles. What's more, fabric printing is used to make corporate promotional items like totes and cloth bags, or to customise apparel like polo shirts and t-shirts, especially in the sports industry where it's used to create garments with team colours and logos. Artists, fashion designers and interior designers use direct printing on fabric to create canvas pictures, decorative items or clothes made from natural materials.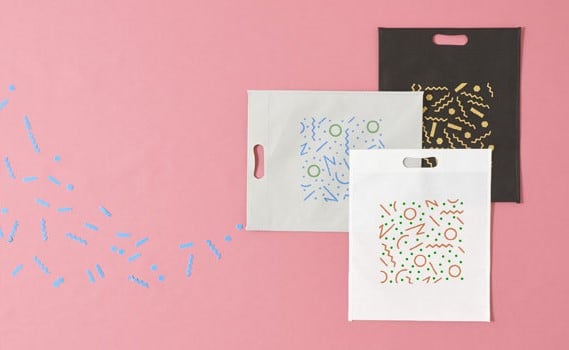 Given the versatility of fabric printing techniques, we decided to put together some helpful hints and information for those wanting to create digital prints on different types of textile items. We start with a practical example that explains how to print on fabric with Pixartprinting.
How to print on fabric
To kick off your digital fabric printing project, you first have to choose the product that best meets your needs and then customise it as you see fit. If, for example, you want to produce a cloth bag, choose your preferred format and configure the product by adding the number of items, the dimensions, colour, type of printing and fabric. The online quote system will automatically calculate the final price, so you'll know immediately whether it meets your budget.
Next, download the template and the instructions for creating a print-ready file and send them to whomever is doing the graphic design for your tote bag: this way, you'll ensure there are no problems in the production phase. Once your artwork file is ready, you can upload it after confirming the order. Easy, right?
But if you're not sure which fabric printing method is best for your project, this brief overview might help.
Fabric printing techniques
Fabric printing techniques vary depending on the type of material used, as synthetic fabrics have a different ink absorption capacity compared to natural ones, like cotton or silk. Another aspect to consider is what the product will be used for : if, for example, it's an outdoor banner or flag, it's best to use direct printing onto a fabric that is resistant to the wear and tear caused by the elements.
Direct sublimation printing
At Pixartprinting, we use this process for synthetic materials destined for both indoors and outdoors. We use inkjet web presses and odour-free, washable inks that guarantee bright, sharp colours. This technique is employed for printing on polyester fabrics used in various sectors, from advertising posters to clothing.
Considered one of the most sophisticated fabric printing techniques, sublimation offers reproduction that is imperceptible to the touch while leaving materials strong, elastic, resistant to washing and fully breathable. It's therefore perfect for creating items of sportswear, as well as accessories like scarves, ties and bags. What's more, because they are weatherproof, synthetic fabrics printed with this process can be used in communications and marketing to create outdoor displays and advertising banners ideal for trade fairs and events, and outdoor signage for retailers.

Inkjet printing
This fabric printing technique, also known as DTG (Direct to Garment), is used for four-colour printing on natural fabrics like cotton and silk, and uses inks that are directly applied to the product. It's widely used in the apparel sector to produce t-shirts, polo shirts and other customised garments made from cotton or other natural materials. Furthermore, the switch from screen printing to digital printing has allowed businesses, professionals and the public to produce customised clothing at affordable prices in a huge variety of colours and designs.
In home decor, inkjet printing is widely used for producing curtains, pillowcases and other furnishings, like photographs printed on canvas. Another area of application is cotton or linen flags and displays for indoor advertising.
Screen printing
Screen printing is one of the oldest fabric printing techniques. It uses screens, pieces of permeable mesh stretched over a rigid frame, which allow ink to pass through to the surface below. Today, screen printing is an industrial process that can quickly print the same design onto large volumes of fabric. It's not suitable for reproducing lots of different designs in a short period of time due the high cost of running presses and long set-up times.
Also, unlike inkjet printing, screen printing cannot be used to reproduce images in high resolution with rich details and tones, and is rough to the touch. At Pixartprinting, we use screen printing to customise totes and bags made from cloth or recyclable non-woven fabric, perfect for corporate giveaways at trade fairs, conferences and promotional events.
Our overview of the main fabric printing techniques ends here: are you ready for your next printing project?