As any professional, agency or business using digital marketing to sell their products or services or increase brand awareness will know, Instagram Stories can play an extremely useful role in any marketing strategy.
The success of this type of content, created by brands, influencers and regular users alike, stems directly from this knowledge. IG Stories are viewed on the platform by 500 million users worldwide.
The feature was first introduced in 2016, after enjoying incredible success on rival platform Snapchat. Everyone who manages an Instagram profile needs to know what Instagram Stories is and how to use it, as well as the best strategies to implement to achieve success in your marketing.
But first, let's take a closer look at it.
What is Instagram Stories?
Instagram Stories is a platform for content comprising images, text or short videos that is only accessible for a limited period of 24 hours from the time it is published.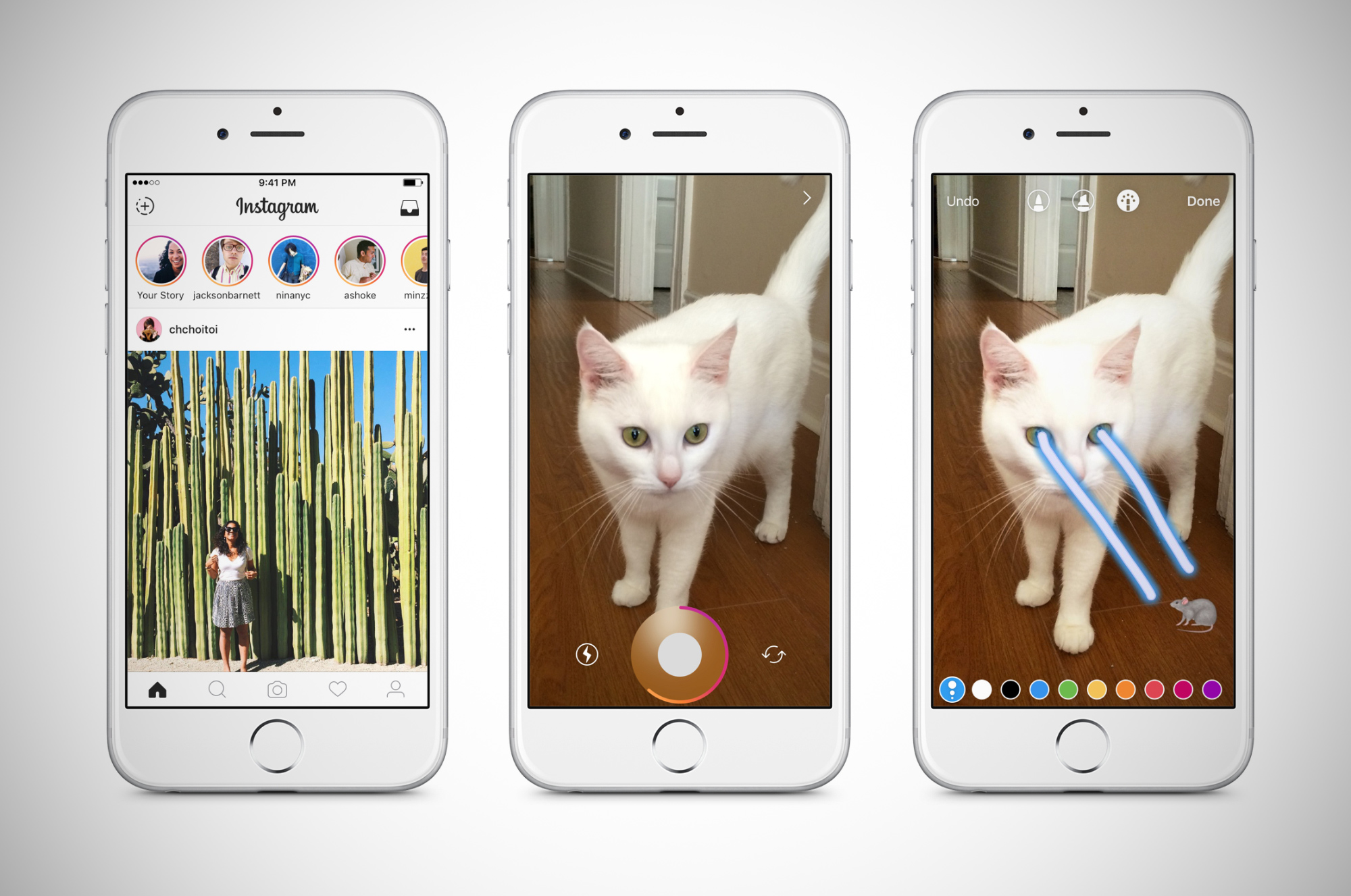 That said, Stories can become 'permanent' if the content creator decides to highlight them on their profile (we'll see how to do this later).
Instagram Posts, meanwhile, unlike Stories, are always visible on the profile, unless the owner decides to delete them. This means they last longer, but they don't have the same instant effectiveness. An extremely interesting article on the official Instagram blog explains the different ways users perceive Stories and Posts in their feed.
How to create Instagram Stories
 There are various ways to make Instagram Stories:
Open the Stories camera mode from the feed (the screen you see when you open the app) by swiping
Click on your profile photo, then select 'Camera' from the list of options to create a Story.
On the profile page, click the '+' symbol to enter 'Create' mode, then choose 'Story'.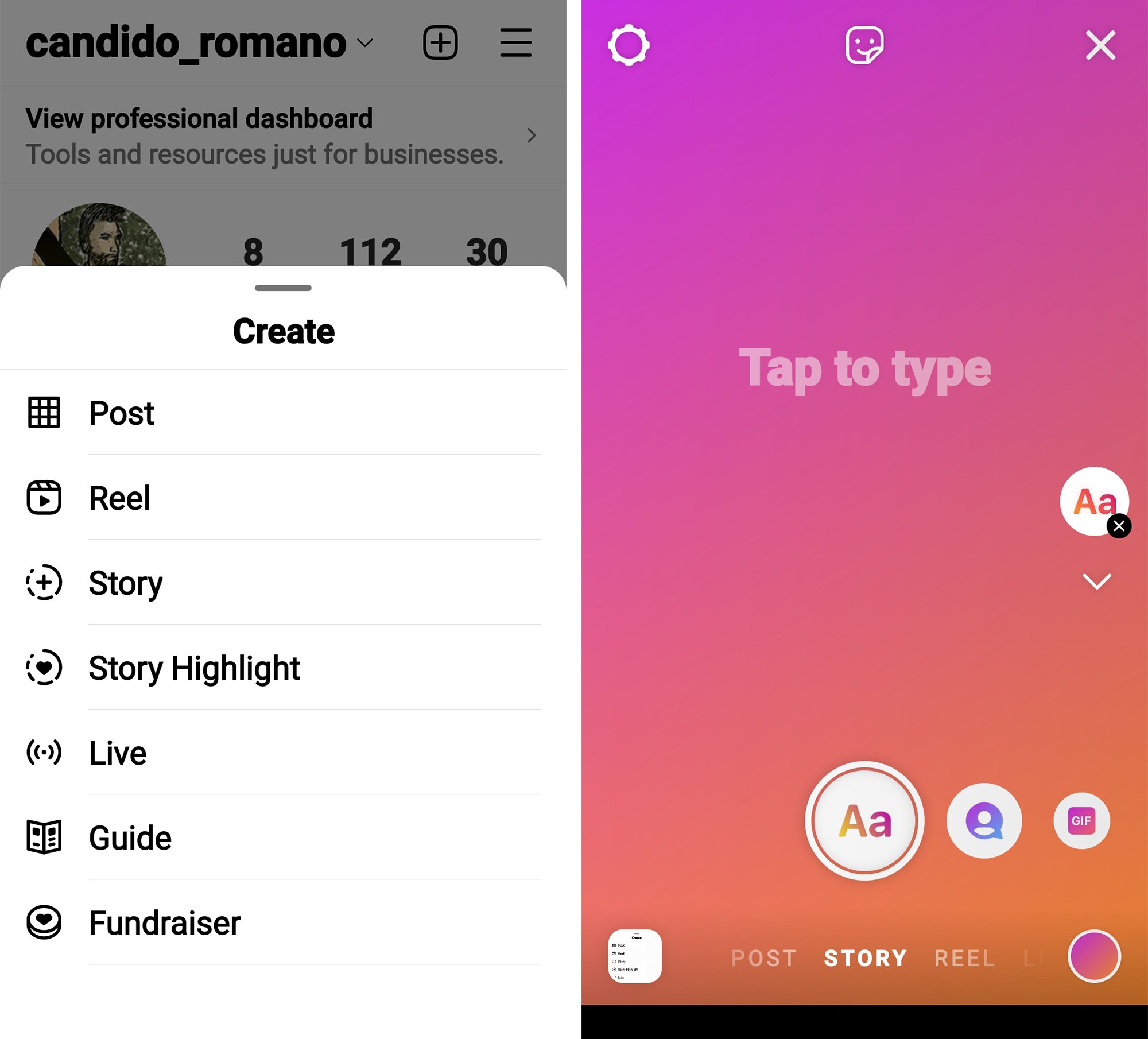 At this point you can take a photo by pressing the large white button at the bottom (or import a photo you took earlier) or film a video by holding the same white button down.
Once you've taken your photo or recorded your video, you can use the editing tools shown as small icons on the Stories screen. The 'Aa' button allows you to overlay text, while the smiley icon opens the menu for adding stickers. These include a series of actions for the viewer/user to complete, as well as some additional functions.
These functions are an invaluable part of any Instagram marketing strategy, and include the option of inserting links pointing to a webpage or products in an online shop, background music, surveys, mentions using tags, countdowns, GIFs, questions, quizzes, links, donations, locations and much more.
You can also draw straight onto your Story to create more personalised content by clicking the three vertical dots at the top and choosing the 'Draw' option.
You can access all the additional text and sticker functions without taking a photo or filming a video, simply by opening the Stories screen.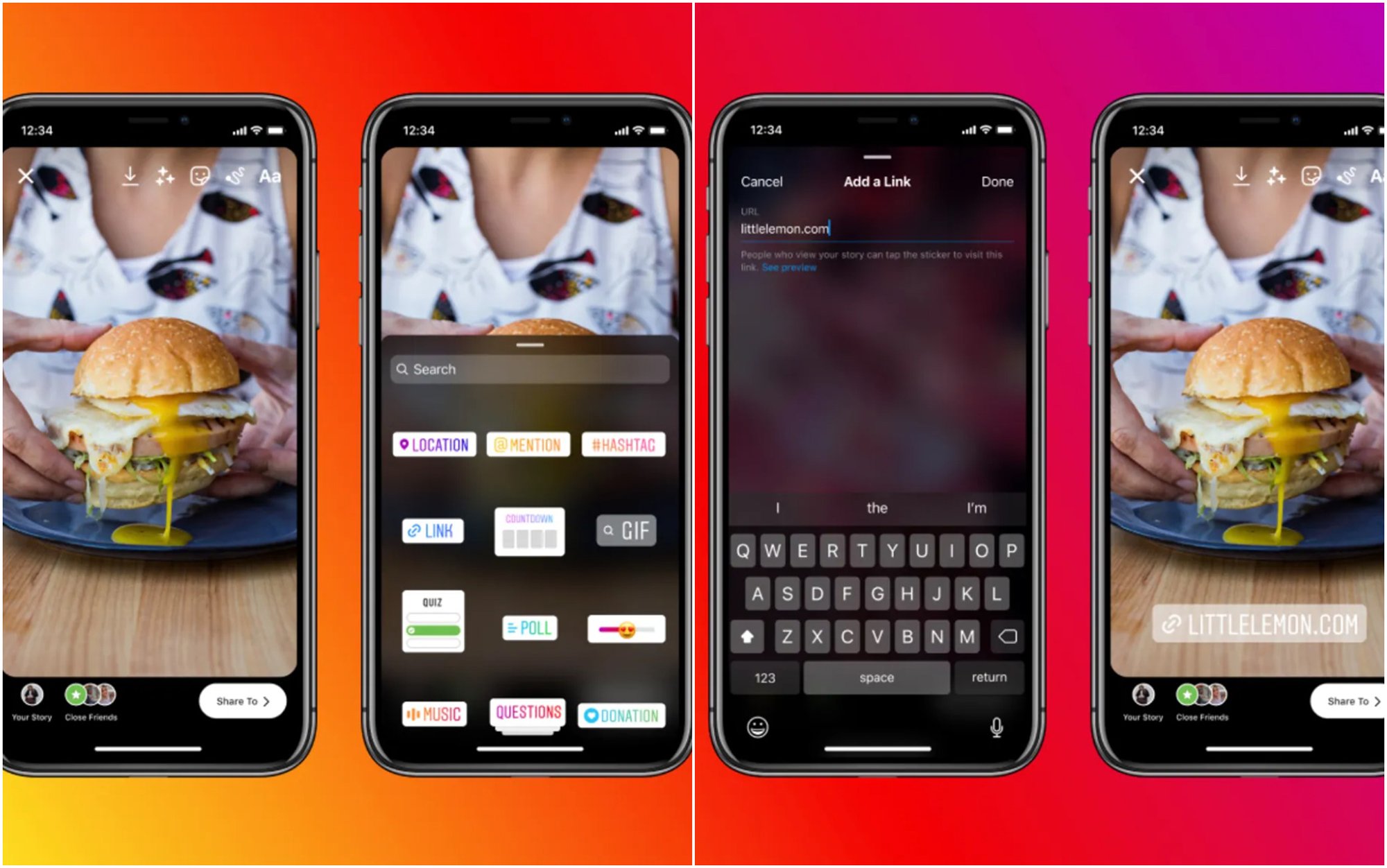 Why does Instagram Stories work so well?
Instagram Stories is a useful tool for any type of online or offline business. It is used, for example, by traditional clothing stores to highlight new goods, but also by online shops selling various categories of products and services to improve the visibility of their catalogue.
This content format has become so successful because it allows creators to express whatever they want, from events in their everyday lives to something they're selling.
Essentially, it works well because it offers major advantages for brands, most notably the chance to communicate directly with fans or customers with more visible content on both personal and business profiles.
The main advantages are:
Improved engagement: adding interactive elements encourages people to interact with your brand. From real-time messages to surveys and quizzes, Stories can generate much more engagement with potential customers.
Increased sales: adding links to Stories using stickers means users can be quickly and creatively directed to products or services available to buy in your online shop.
Better visibility: Instagram Stories, with added stickers, can increase the reach of marketing materials enormously by adding a location – useful for local businesses – or by choosing appropriate hashtags, so as to expose the brand to people who are genuinely interested in certain products or services.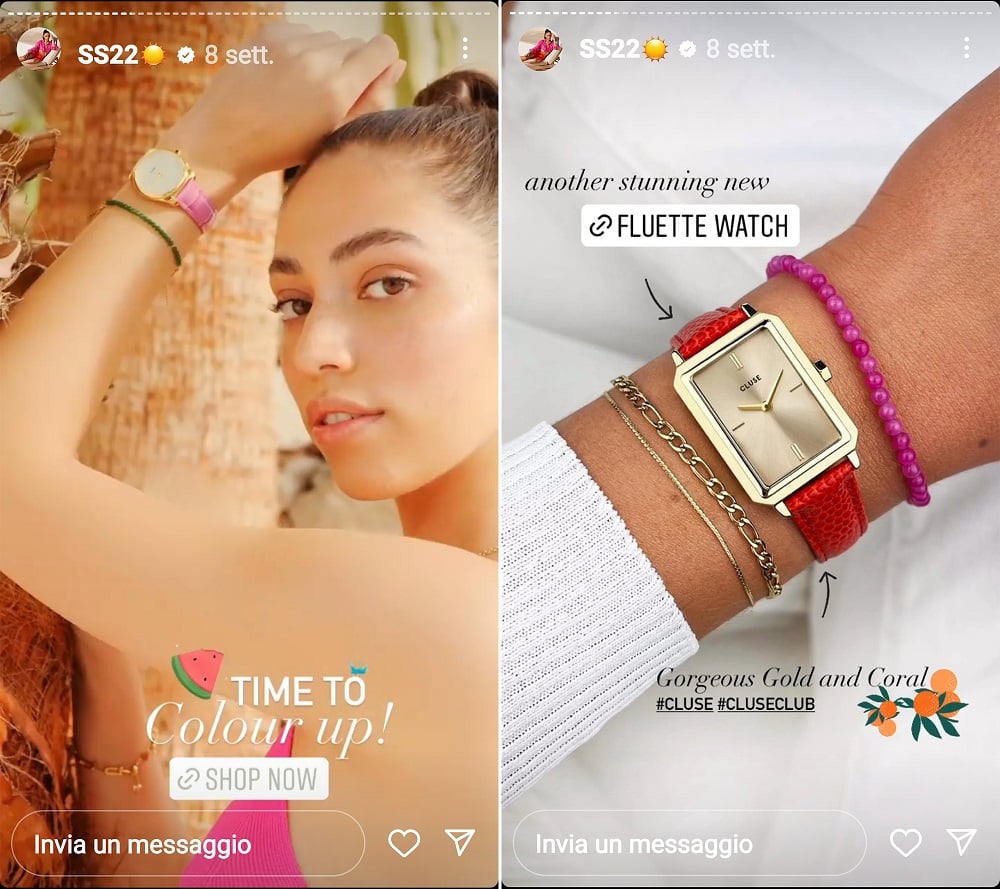 Increased trust: ephemeral content like IG Stories increases brands' credibility and authenticity in people's minds. In addition, because they are only available for 24 hours, they work on the scarcity principle, as they are something the user will soon lose and not be able to view again. Fear of missing out is a very powerful force when it comes to shaping people's actions.
Humanising the brand: Instagram Stories allows you to create more spontaneous content using the camera on your mobile, meaning any brand can become closer to people's everyday lives.
Get instant feedback: the data gathered from interactions with Stories provides important feedback to help you hone your marketing strategy.
How to use Instagram Stories for your corporate communication
Instagram Stories provides a very solid platform for raising awareness of a brand on social media. To make best use of it and improve your digital marketing plan, it goes without saying that you first need to clarify the objectives your brand wants to achieve. More sales from this channel? More leads? Greater brand awareness among potential customers? Intercepting and gaining more followers for the company page?
Once you have defined your targets, you can, for example:
Conduct ongoing testing: create different types of advertising content, experimenting frequently with new colours or ways of interacting with your customer base through messages targeted directly at consumers, or devise specific surveys that ask potential customers directly for their opinion on your products and services. Naturally, you need to pay a great deal of attention to what you publish, and always remain true to the business' tone of voice: no improvising, in other words. One way of experimenting with new ideas is to start with a brainstorming process where you jot down various ideas before developing content and publishing it on Instagram Stories. You can then analyse the data and assess which content led to more interaction, sales or followers, and so constantly improve the content you publish.
Use storytelling: creativity is a vital tool when it comes to creating successful content on Instagram, and this often involves telling a story. Storytelling sells in any sector, whether you are hawking T-shirts or you are an artist wanting to spread the word about your work. Think about this type of IG Stories as a movie trailer presenting your products or services in an engaging way, and so encouraging potential customers to follow your page. You can also describe your brand through a series of linked Stories to encourage customer loyalty, perhaps always releasing them at a fixed time of day.

Drive sales using product stickers: Instagram Stories is one of the most powerful selling tools available, allowing you to tag specific products with CTAs. Users are sent to your online shop when they tap on the sticker or specific products that attract their attention within the Story. There is also a 'Support Small' sticker that allows users to tag an independent business or shop to support, perfect for local firms.
Use preset formats: the wide variety of stickers available allows you to create recurring formats to add to your publishing schedule, providing you with a template of content that is always fresh and effective. For example, an 'ask us anything' format works very well on Instagram for brands of any type, creating arresting Q&A sessions that increase engagement among your followers.
Describing a brand using IG stories
Now we've seen all the tools Instagram Stories provides, it's time to start thinking about how to narrate your brand to a select audience using this type of content.
As Instagram is largely a platform used by young people, and millennials in particular, in recent years a new generation of vertical brands have flourished that have mainly built their success on their digital reputation. Here are some ideas of ways to start telling your brand's story:
Use visual storytelling: Instagram is predominantly a visual platform. To spread your brand's values and identity, you therefore need to offer a unique and consistent visual experience to users. All your Stories should make use of well-known photographic and lighting techniques – apps like VSCO and AfterLight help you to correct exposure and lighting, making your communications appear more creative and professional.
Include behind-the-scenes material in your storytelling: Instagram Stories is a great way of creating linked content. Today, however, users are much smarter and in search of 'real' content, so why not give them a genuine behind-the-scenes look at your business? Stories doesn't just have to feature professional photos or videos; you could also include some user-generated content, made by the people who actually use your products or services. You can do this by sharing your customers' Stories – the positive views expressed will increase trust. Using real images of clients can also drive sales: it has been shown that photos of real customers on your website can double your conversion rate, because 92% of customers trust the opinion of people like them.
Create Stories Highlights: while IG Stories are ephemeral in nature, the most important ones telling crucial parts of your brand's story can be given pride of place on your profile and viewed indefinitely. Many firms use this function to create a collection of posts relating to their products or services, or to advertise special offers with links. To add a Story to your Highlights, assuming that less than 24 hours have passed since it was published, simply go to the content and tap on the 'Highlights' icon below. You can also choose a name to give to your Story, which will be visible on your profile just below the bio and above your posts. Alternatively, you can add multiple stories to your Highlights straight from your profile by clicking '+' below the bio: this allows you to create a collection of Stories that reinforce the brand's values, group specific selections of products, and much more. Each set can contain up to 100 Stories.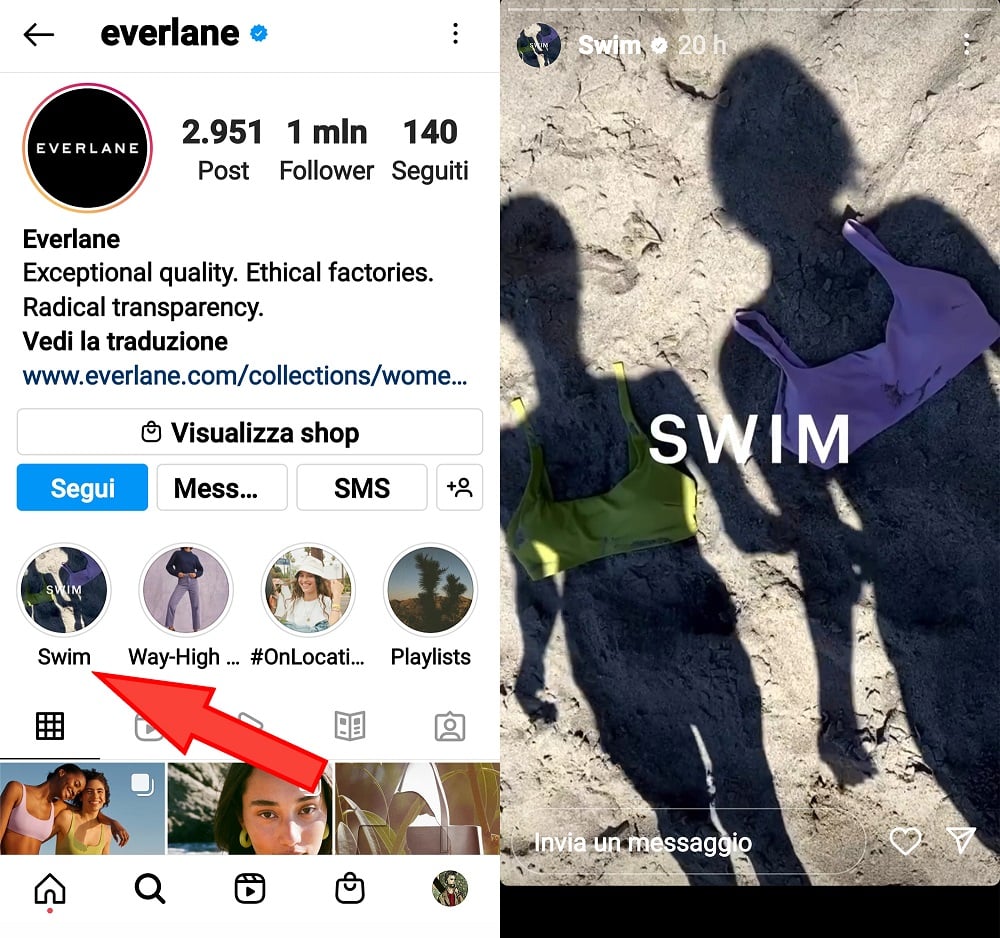 Publish specific content for certain followers: in the world of marketing, good segmentation can get you a long way. The 'close friends' function allows you to select your most loyal users and send them stories featuring exclusive offers, discount codes or coupons to further cement their loyalty.
Use live videos: live streaming on Instagram is a very good way not only of raising brand awareness, but also of selling. Once you have published a certain number of Stories, it's time to take the plunge and go live, though you'll need to plan it rather than trying to wing it. The advantage of live streaming is that your followers receive a notification when the streaming starts. Live streams are perfect for product announcements, events, Q&A sessions or interviews with major figures in your sector.
Instagram Stories scheduling tools
There are various tools available for scheduling Stories on Instagram, which allow you to operate more professionally, including from a desktop computer, edit videos and photos before publishing them and set up an all-important publishing schedule. Here are some pieces of software you may find helpful: 
Later: this is one of the best-known and most commonly used tools for scheduling content. It allows you to resize images into the IG Stories format, schedule stories for a precise time and monitor your statistics.
Onlypult allows you to publish Stories from either PC or Mac desktop computers, and to upload graphics through other tools like Canva.
Buffer is another popular tool for scheduling Stories: it provides a simple way to organise and preview Stories, to ensure they are published in the right order.
Storrito allows you to build and schedule Instagram Stories, and includes an editor for adding stickers, emojis, custom fonts and photos from its stock collection.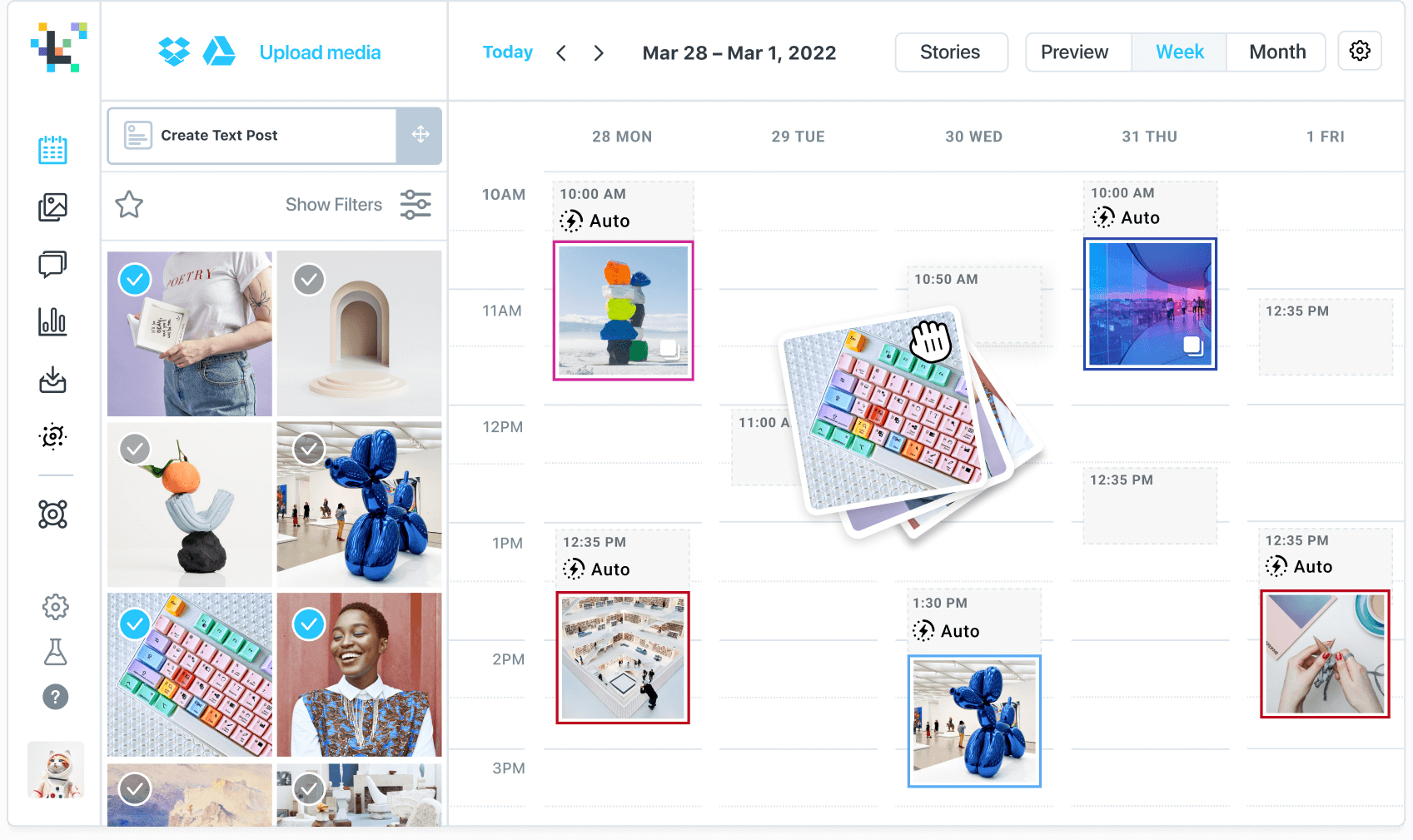 Measuring performance
Measuring your Stories' performance is vital for planning your future activities. Here are some of the data to keep an eye on:
Unique visits, i.e. the number of users who have viewed your Story: Instagram insights allow you to see which specific accounts have viewed the content.
Completion rate: stories can comprise multiple videos and photos. Instagram's analysis tools show you when users stop watching a certain piece of content, so you can figure out what didn't work.
Original ideas to use in Stories: what content should I publish?
There are numerous options available when creating Instagram Stories, opening up a vast array of creative possibilities. But what should you go for in practice? Here are some suggestions that should lead to impressive results:
Share the preview of a new product or service: this type of Story can be created before the actual launch, to generate curiosity around a product or service. It could also be worthwhile to involve your audience in developing the items the business will sell in the future by asking for constant feedback.
Share customer testimonials: other customers' opinions are an easy way to generate trust. Virtually everyone looks at online reviews before they buy something, so a quote from a happy customer or a benefit they have noticed from a recently purchased product is sure to increase the relationship of trust between the brand and its potential clients.
Start a conversation with your audience: Instagram allows brands to 'talk' to their customers. Posing a question or encouraging followers to get talking allows them to share their experiences with the brand. One way of striking up a fruitful conversation with customers or followers is to share an interesting statistic, a funny anecdote or a simple question.
We've reached the end of our exploration of what makes Instagram Stories a key digital marketing tool. It is a vast and ever-changing world; once you've absorbed the basics, all you have to do is get creative and come up with some memorable content for your business.