Shopify is an e-commerce platform that allows you to create an online store for selling products and services. Over 1.7 million stores in 175 different countries have been created using the platform. With Shopify, anyone – even those with little or no technical know-how – can start selling online by creating an online store that accepts all major payment methods.
Small businesses can use Shopify to create and run an online store, as well as manage a physical shop that includes an online or temporary store. Many firms are exploring the e-commerce opportunities offered by Shopify: here's our guide on how it works, how much it costs and the benefits of using the platform.
What is Shopify and how does it work?
Shopify is an SaaS (Software as a Service) solution that allows you to create, customise and run an online store. In exchange for a monthly fee, Shopify provides the cloud infrastructure for creating an e-commerce operation without the need to install software or have your own server. Your online store is instead hosted by Shopify's server.
It takes just a few simple steps to create an online store with Shopify – you don't need to know how to code: simply create an account, choose from a series of free or paid store templates and add your products, services and payment methods. It also lets you analyse visitor behaviour to give you valuable insights into your customers.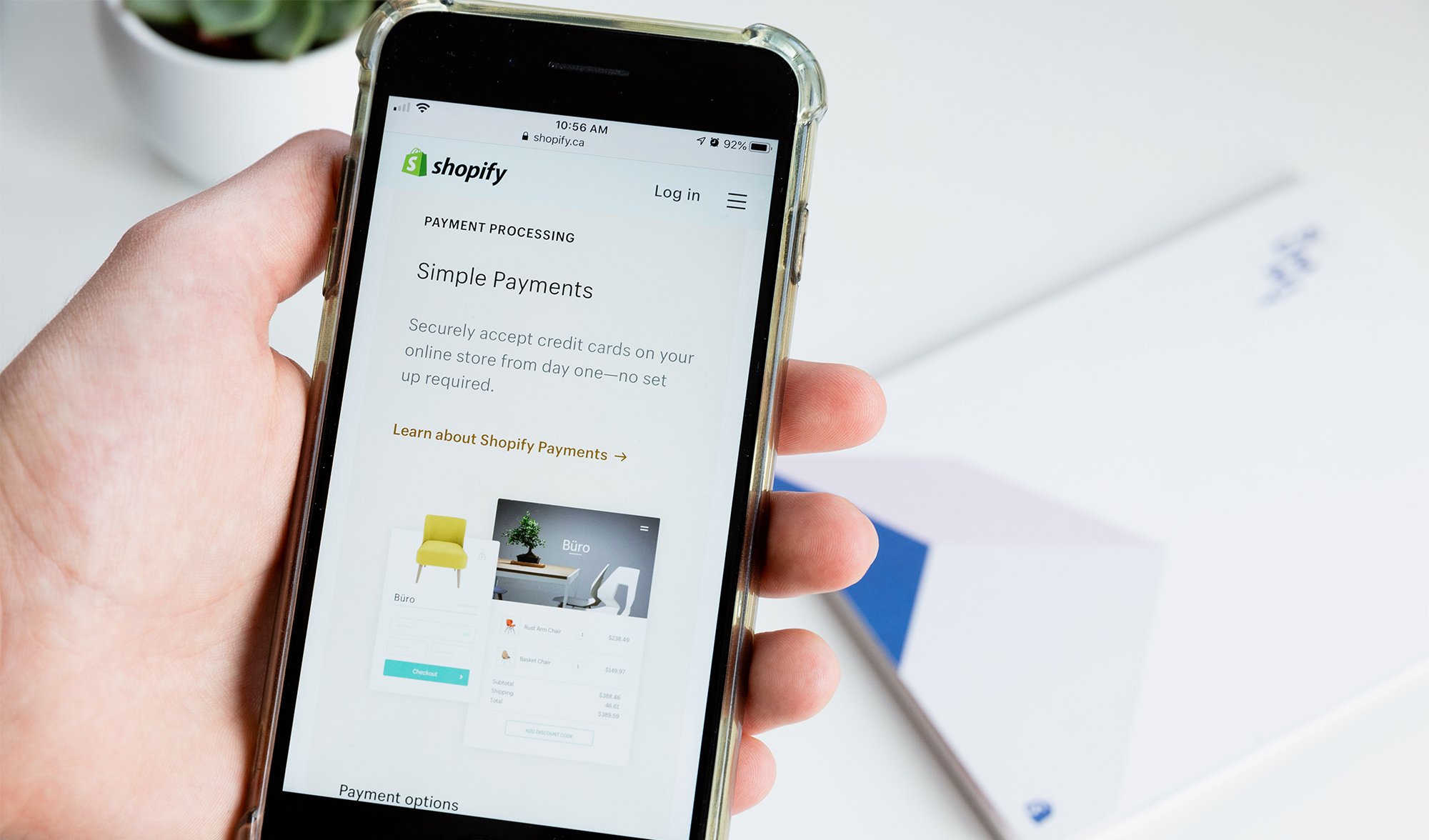 The platform also enables the integration of numerous third-party services to help your shop grow: all sorts of apps can be installed in your online store. Want to start cross selling? There's an app for that. Want to add a pop-up notifying customers about a special offer? There's an app for that too, as well as hundreds of others that improve both the appearance and functionality of your e-commerce operation. With Shopify, you really can create quite advanced online stores.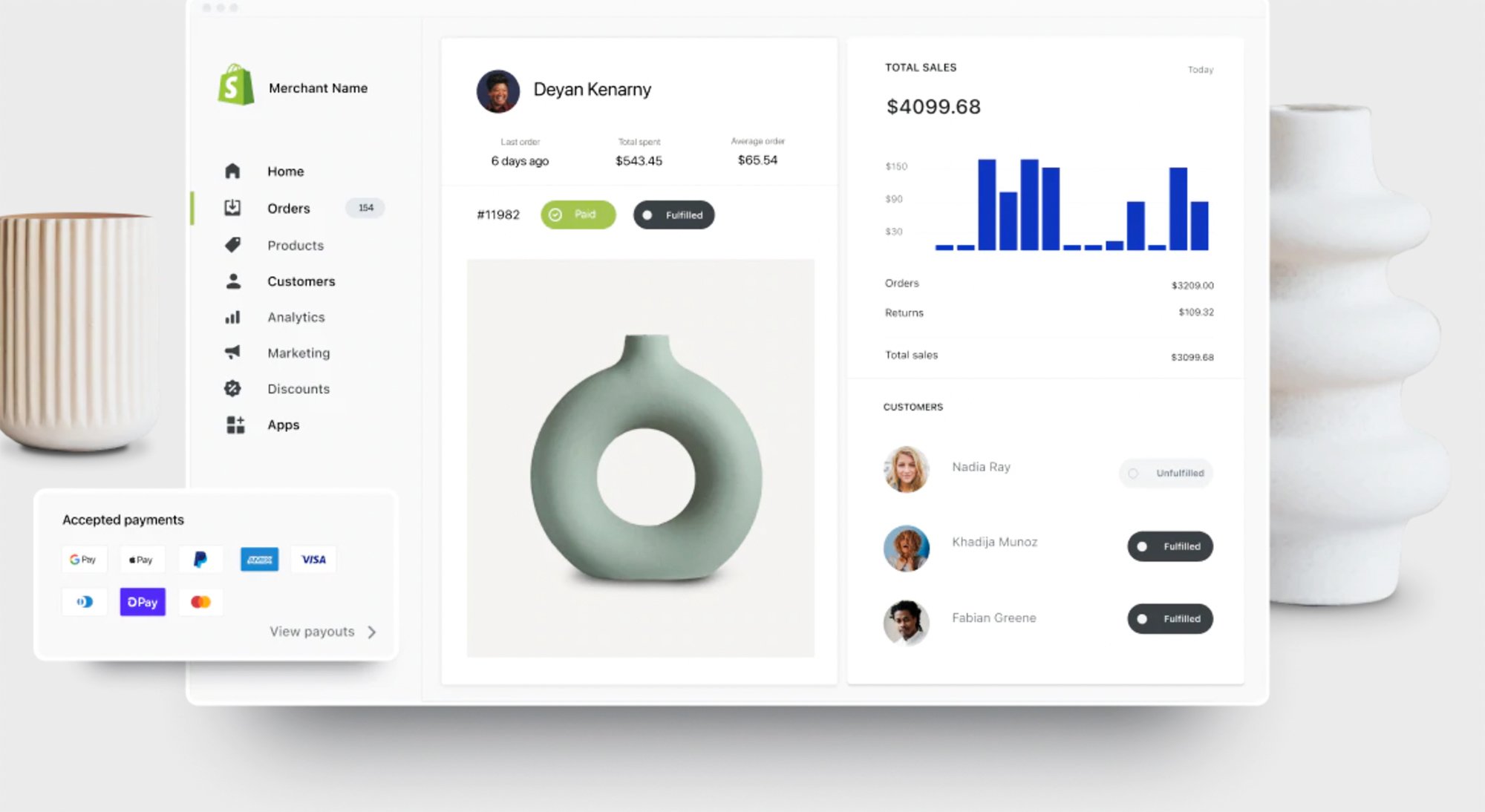 To understand how Shopify works, follow the steps below and create an online store on the platform. Simply:
Visit the homepage and create an account. You'll immediately get a 14-day free trial.
Now add your online store name. This is used to create your Shopify site with its own unique URL. You can also purchase a custom web domain for your store.
You can immediately customise your store's home page with new text and images. Alternatively, you can choose from one of many free and paid pre-set themes.
The next step is to add products to your store, along with details about them such as a description, quantity, price and much more.
To enable visitors to buy products, you will need to choose one of Shopify's subscription plans.
How much does Shopify cost? All subscription plans
The prices of the different plans available on Shopify can be viewed here. The platform provides five different plans that cover the needs of every type of firm that wants to sell online. Anyone can use Shopify, from sole traders to big companies that have to manage lots of buyers, multiple warehouses and a large product inventory. Here's how much Shopify's various subscription plans cost: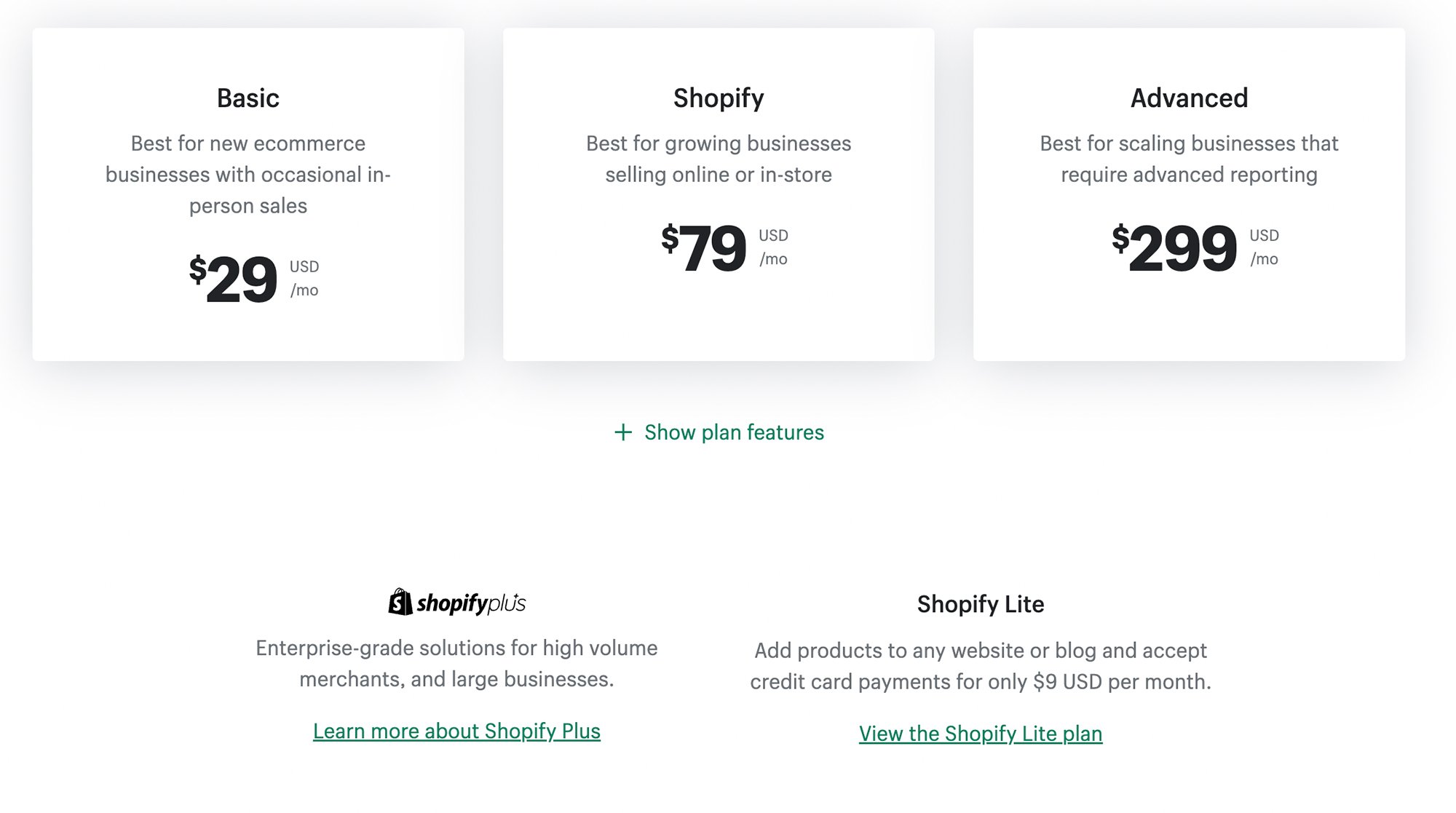 Shopify Lite: at just 9 dollars a month, this is the cheapest plan, perfect for someone who is selling online for the first time. It allows you to add products to any website or blog, whether hosted by WordPress, Squarespace or Tumblr. You can also add "Buy Buttons" that generate an embeddable product card and check-out.
Basic Shopify: this plan costs 29 dollars a month and is the cheapest option for creating an online store. It's ideal for new e-commerce operations and offers all the basic functionality needed for selling online, with the ability to add an unlimited number of products.
Shopify: this is the best-selling plan used by growing businesses that sell both online and through a bricks-and-mortar shop. For 79 dollars a month, it offers more advanced functionality, making it suited to medium-sized companies too. For example, custom web addresses that are optimised for search can be assigned to each market.
Advanced Shopify: priced at 299 dollars a month, this option is aimed at large firms that need advanced reporting. Added functionality includes the possibility to have up to 15 different staff accounts, manage multiple warehouses for assigning stock to physical stores, pop-up shops or any other sales outlet.
Shopify Plus: the most expensive option, this enterprise-level plan is for large businesses with high sales volumes. The price starts at 2,000 dollars a month, but it brings major benefits, like dedicated support from Shopify staff.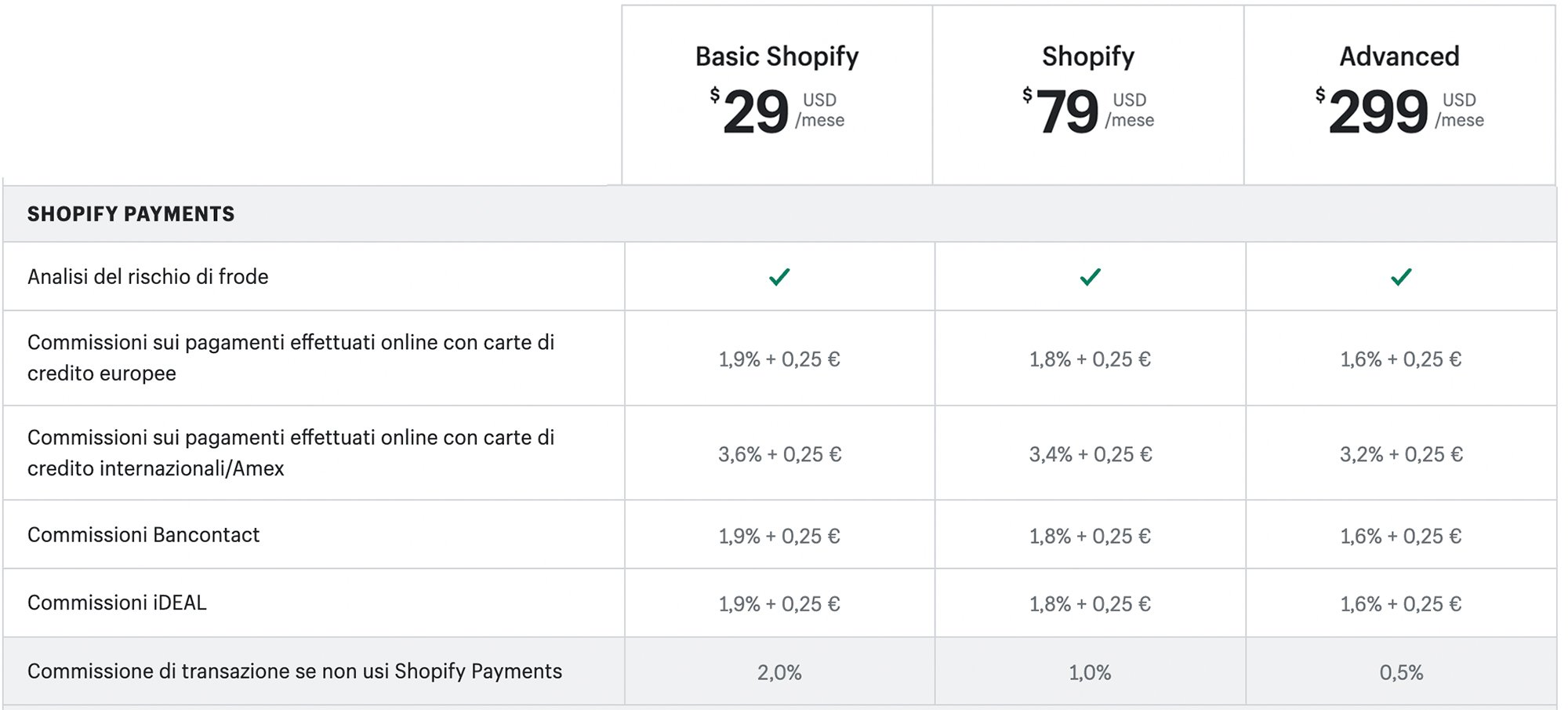 An important note on prices: in addition to the monthly fee, all plans, except Shopify Plus, are also subject to a commission on transactions. This means that on every e-commerce sale, you have to pay a commission to Shopify. Here's a table with sales commissions (Shopify Lite's Buy Button commission is comparable to Shopify Basic):
Which payment channel should you use for your store?
Shopify provides access to over 50 payment providers, which you can see on this page. Every country has a series of specific payment systems that are supported, including Amazon Pay, PayPal, credit cards and software for POS.
E-commerce managers are advised to take the time to explore the specific characteristics of each payment method that can be added to the store.
What's the different between Shopify, Amazon and eBay?
Amazon and eBay differ clearly from Shopify in that they are actual marketplaces. Sellers create their own stores on these platforms, which means they can't customise the interface, and must follow the platform's rules. So Amazon and eBay are the closest you get online to a market where traders display their products on their own stalls with a minimum of customisation.
Shopify, on the other hand, is like having a shop in a specific location where the shopkeeper pays the rent (in this case the monthly platform fee), but sells in their own space with a name and sign, operating independently from all other stores in the area. Just like a bricks-and-mortar store, if you have an online store on Shopify, you are in charge of the products sold, returns, marketing and all other related activities.
Who is Shopify best for? The platform's advantages
Shopify is the perfect solution for anyone who has a website, blog or social media page and wants to monetise it by selling products (for example, you can create a shop on Instagram and link it to products on a Shopify site), as well as SMEs and larger firms who want to launch an e-commerce operation or improve their own online store.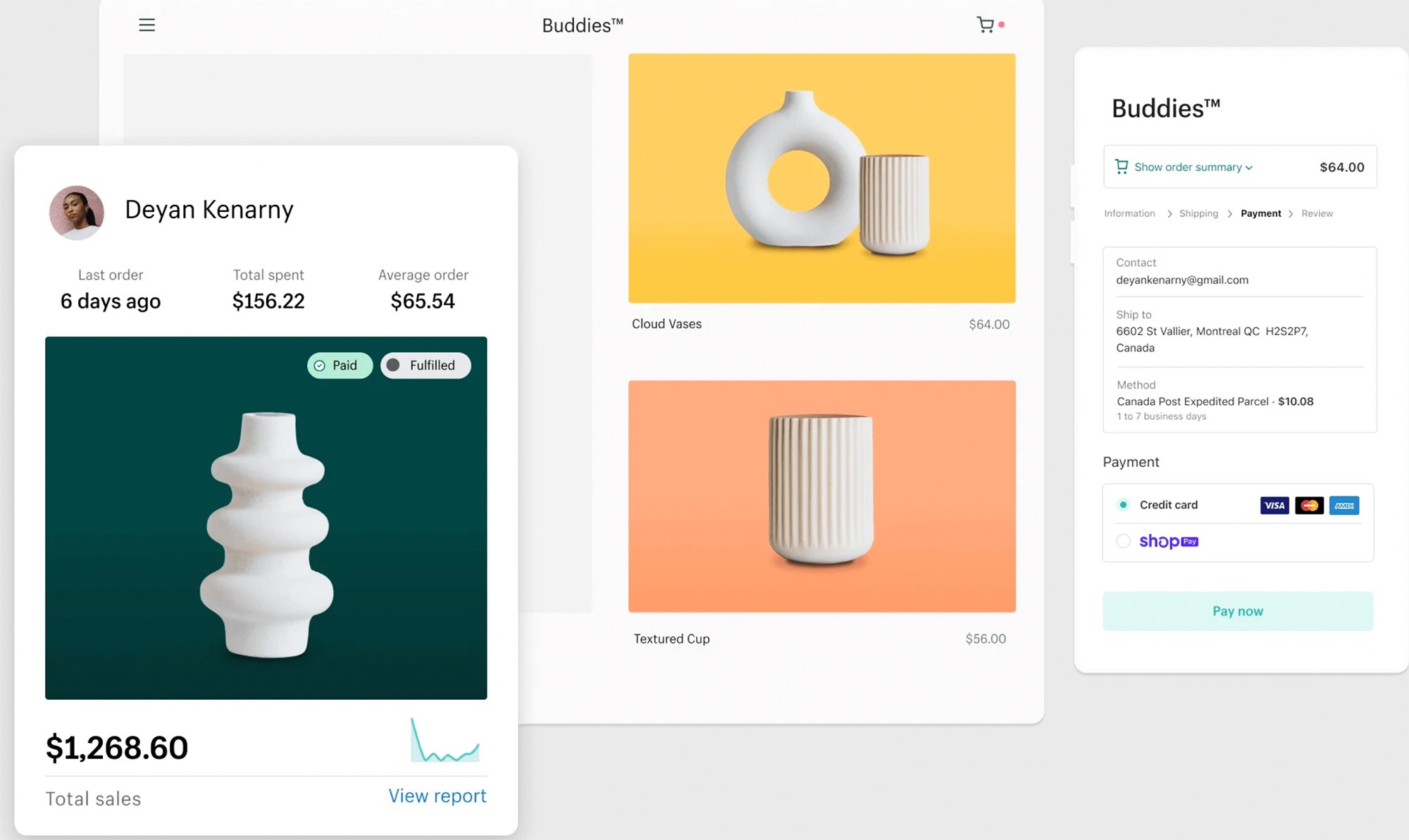 The platform meets the needs of all types of businesses because it lets them move from one plan to another, even mid-plan. So Shopify offers companies the following benefits:
Clear and inclusive costs: being cloud-based, Shopify charges a monthly fee (and commission on sales), but this also includes the costs of servers, which isn't included in other solutions like Magento and Prestashop.
Easy to use: anyone can use Shopify, even those who don't have any experience in selling online. What's more, there are tons of apps available for increasing the functionality of online stores, as well as themes for customising almost every section.
Stable server: because the online store is hosted on Shopify's servers, it's rare for it to run slow or crash, even with high volumes of traffic. This gives you peace of mind, especially at peak periods of the year like Christmas or Black Friday, so you can concentrate on sales and marketing.
Automatic updates: because it's an SaaS platform, Shopify updates automatically and for free. Shopify takes care of the technical side of things, so shopkeepers can just focus on updating the products in their store.
Maximum security: when you're part of the Shopify ecosystem, it's much harder for hackers to successfully attack your online store because the platform uses powerful and advanced security systems
 That wraps up this overview of Shopify, a platform that offers a comprehensive solution for any business that wants to sell online, even if starting from scratch.