Outdoor display items are essential communication tools for many types of open-air activities, such as trade fairs, sports competitions or semi-permanent displays close to retail outlets.
Choosing the most appropriate promotional items is important, because their effectiveness (or lack thereof) can make or break your event. Outdoor display items should have the following features:
Weather resistance: outdoor signage must be able to cope with rain or sunshine
Stability: it's important that flags, banners or gazebos can withstand gusts of wind
Durability: outdoor display items must resist wear and tear over time.
What's more, when choosing your display materials, you need to consider ease of transport. This will depend on weight, on the possibility of disassembling the supporting structures and on having a suitable case or container, ideally with wheels for heavier structures.
Through the Pixartprinting website, you can print all manner of outdoor display items customised with the writing and artwork of your choice. Let's have a look at various types of outdoor events and at the type of signage that could work well for you.
Trade fair display items
 If your firm plans to attend an outdoor trade fair, depending on the space available for your stand, you may want to opt for a customised gazebo or counter stand.
If you have at least 3×3 metres of exhibition space, a windproof fabric gazebo will make your location highly visible, attractive in appearance and welcoming, as well as providing visitors with shelter from sunshine, wind and rain.
You can customise your gazebo by choosing from four different colours for the roof and printing your artwork on the inner and/or outer walls in bright and durable colours. A customised gazebo is a very practical solution thanks to its robust, easy-to-assemble frame, which can be carried in a practical wheeled bag.
If you don't have much exhibition space, you can instead opt for a counter stand for outdoor use, such as the fabric pop-up counter or the counter with header.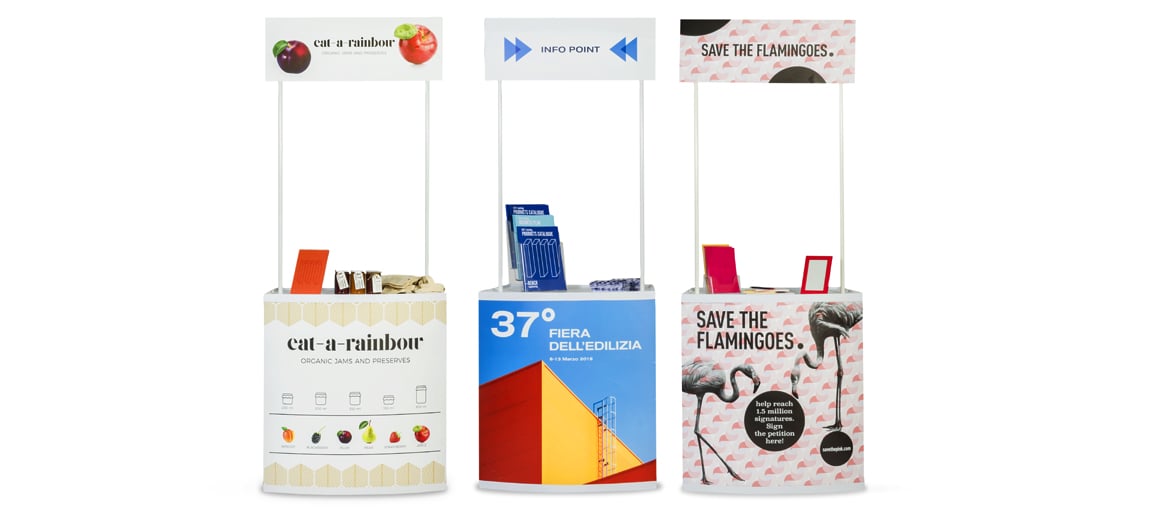 The fabric pop-up counter comprises a sheet of customisable polyester fabric, a frame with a counter for displaying promotional material and a hidden shelf. It too can be disassembled and comes with a carrying case.
The counter with header consists of a plastic body, a Foamex® header and two aluminium poles. This solution is ideal if you need to frequently change the artwork on your exhibition stands: it lets you print a selection of customised adhesive films that can be added to or removed from the frame depending on your event or needs.
Displays for shows and promotional events
In the summer, you can use outdoor public spaces like streets, squares, stadiums and parks to hold promotional days, music shows, theatre performances or cinema screenings.
If you're planning to launch a new product and want to give away promotional items to raise awareness among potential customers, it's essential to attract the attention of passers-by with suitable signage. That's why it's a good idea to use a double-sided outdoor roller banner, an aluminium outdoor double board or, if you have enough space, a sideline banner. Posters placed at strategic points in the exhibition area will help the promotional staff deliver your message.
For open-air events like concerts or theatrical performances, you can use a counter display to present leaflets or brochures with the show programme or other printed materials in A3, A4 or A5 format arranged vertically or horizontally. All cardboard desk displays are customisable in shape and artwork, and can be quickly put together thanks to their interlocking assembly system.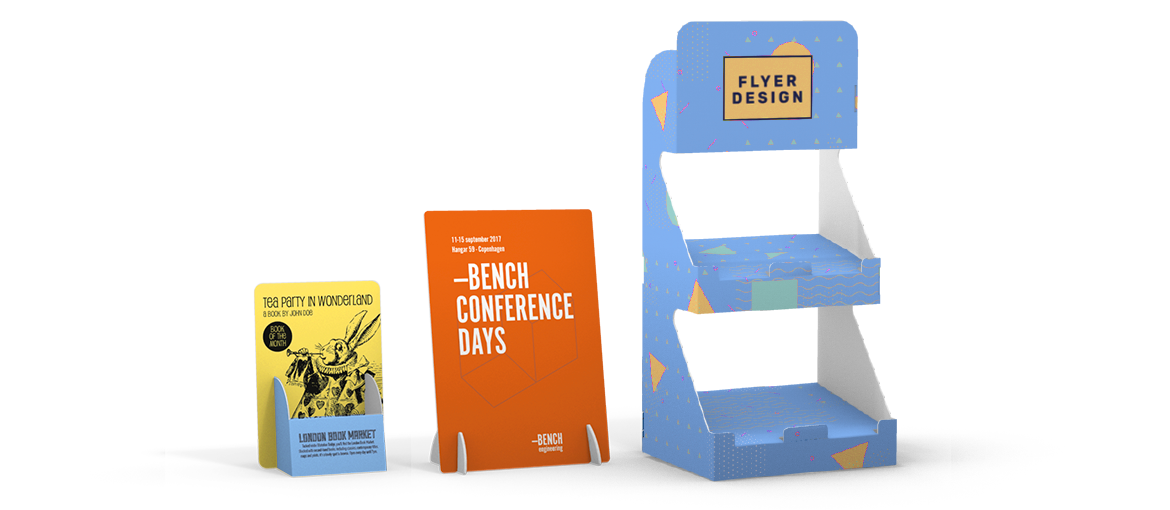 Displays for sports events
 Outdoor signage is very important when organising a sports event because it helps in coordinating the flow of people and managing the various stages of the competition. From participant registration to material delivery, the success of a sports event depends on effective posters that inform spectators, staff and athletes of points of interest at the venue.
Two popular items for sports events are the drop display and drop display XL feather flags, consisting of an aluminium frame and windproof outdoor fabric that can be customised with your choice of lettering and artwork. Drop displays are perfect for signposting specific areas at the venue, like food trucks or sponsor stands.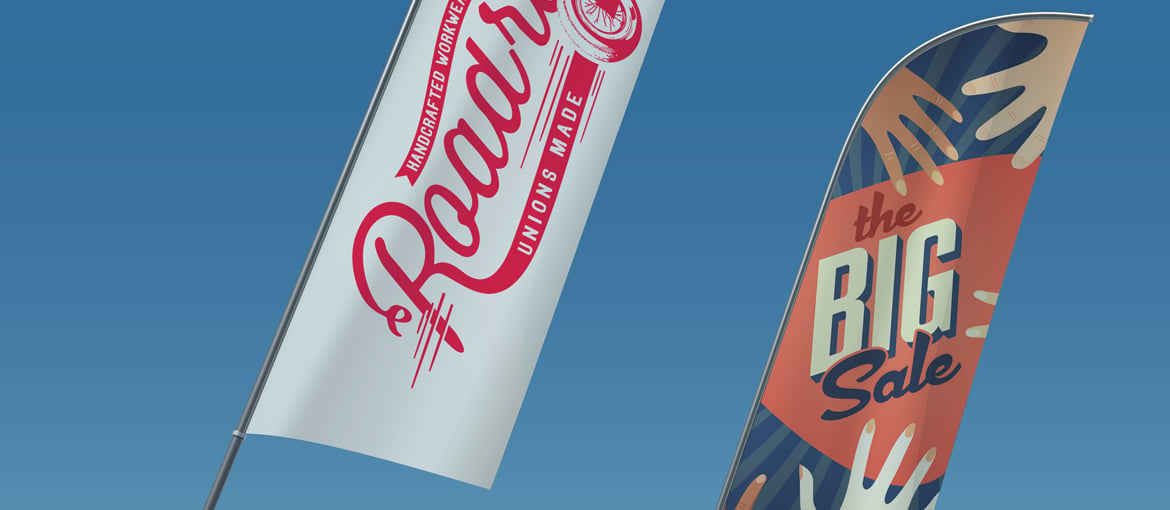 Another useful product is the PVC or mesh advertising banner, ideal for large-format printing for outdoor use. With banners for barriers, for example, you can customise barriers with your company's logo or those of partners sponsoring the event.
So, are you ready to use outdoor display items for your next event?