Are you a maker who crafts original items such as toys, furnishings or jewellery? If so, then selling on Etsy could help you to expand your customer base and grow your online sales. What's more, an Etsy store is perfect for shops selling vintage, designer and art items that are handmade by local craftspeople. And the platform is an invaluable tool for young creatives who are venturing into the world of retail for the first time.
Etsy is an e-commerce platform focused mainly on handmade and vintage items. Launched in the US in 2005, it has since expanded around the world.
This short guide will explain how to sell on Etsy, step by step, covering all the most important aspects of this marketplace. But before we begin, let's get a better idea of what Etsy is, how much it costs and what items can be sold on the platform.
What is Etsy?
Etsy is an online marketplace with a growing community of users – more than 81 million in 2020 – with a shared passion for rare, custom and handcrafted items. The site has some 4000 sellers.
Selling on Etsy can therefore be a good idea if you trade in or make handmade, vintage or designer products, including jewellery, clothes, home furnishings, toys, and bags. Vintage items must be at least 20 years old. The site is perfect for occasional and professional sellers alike.
How much does it cost to sell on Etsy? There aren't any fixed costs for selling on Etsy, but sellers pay a listing fee (£0.15) and a 5% sales commission. The site also offers various tools for customising your page and building your brand.
How to sell on Etsy: opening your shop
Have you decided to open an online shop? Here's how to sell on Etsy. There are two things that you have to do to begin with:
1) Open a personal account on Etsy

2) Open your shop for selling on Etsy
Your personal Etsy account is used to manage your shop. That's why we advise you to carefully complete your profile: upload a quality photo and write a brief biography telling the rest of the community about yourself. This will be your business card as a seller.
To open the shop and start selling on Etsy, you now need to:
Go to Etsy.com, log into your personal account and click on "Sell on Etsy" in the top right corner.
Click on "Open your Etsy shop"
Now you can set your shop preferences: the language you intend to list items in (you can add more later), the country in which you're based and the currency you'll be trading in.
Here's a screenshot by way of example.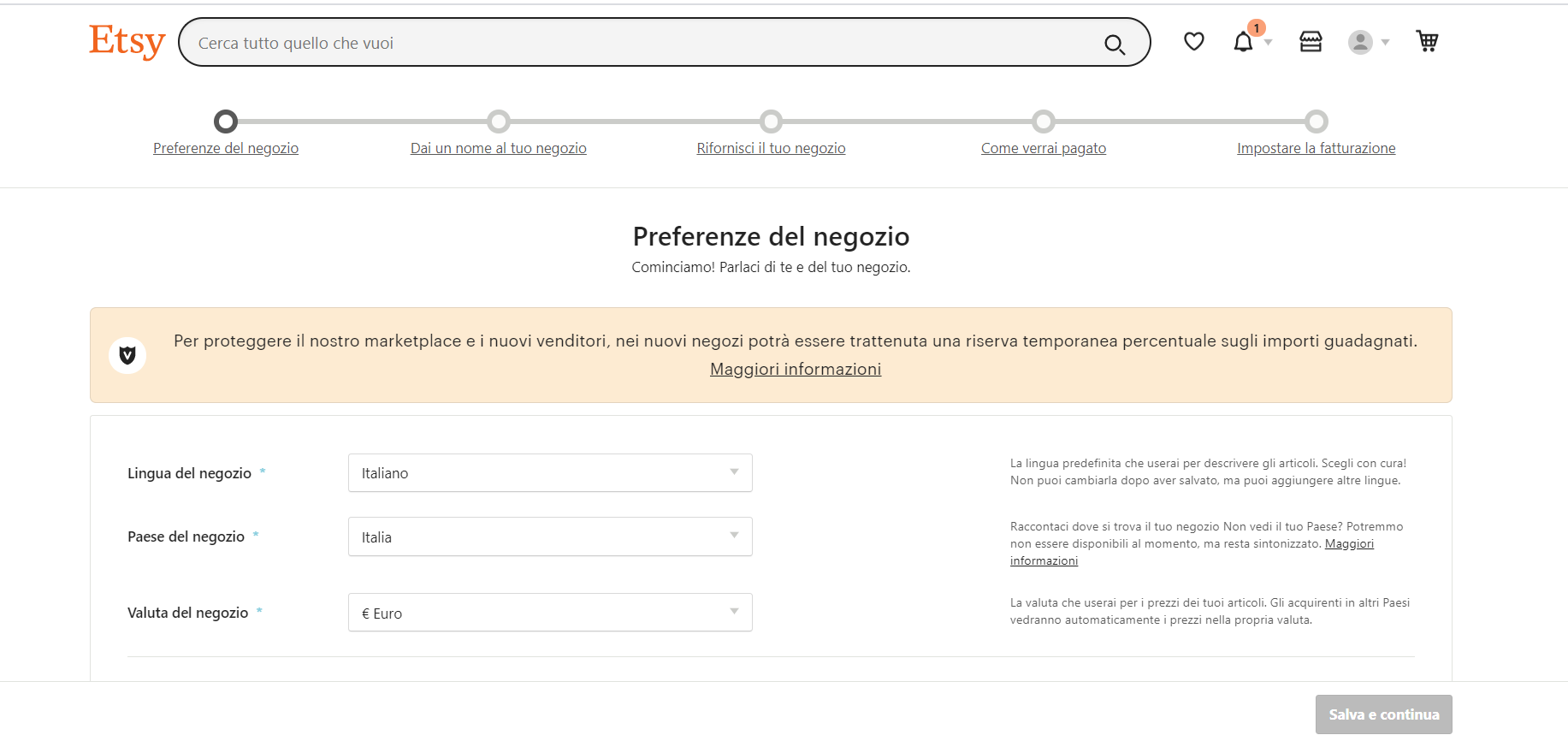 Before you start actively selling on Etsy, remember that there are a few bits of bureaucracy you'll need to deal with, such as registering your business. It's not too complicated: we've explained everything you need to do in this article [link a articolo interno "Vendita online: come aprire un e-commerce"]!
Choosing a good name for selling on Etsy
Now it's time to give your shop a name. This is a crucial step for building your brand and selling on Etsy effectively. Let's take a look at Etsy's rules for naming shops, as well as some tips for choosing a name.
Your shop name must comprise 4-20 characters and can't have any spaces, numbers or accented letters. It can be changed just once.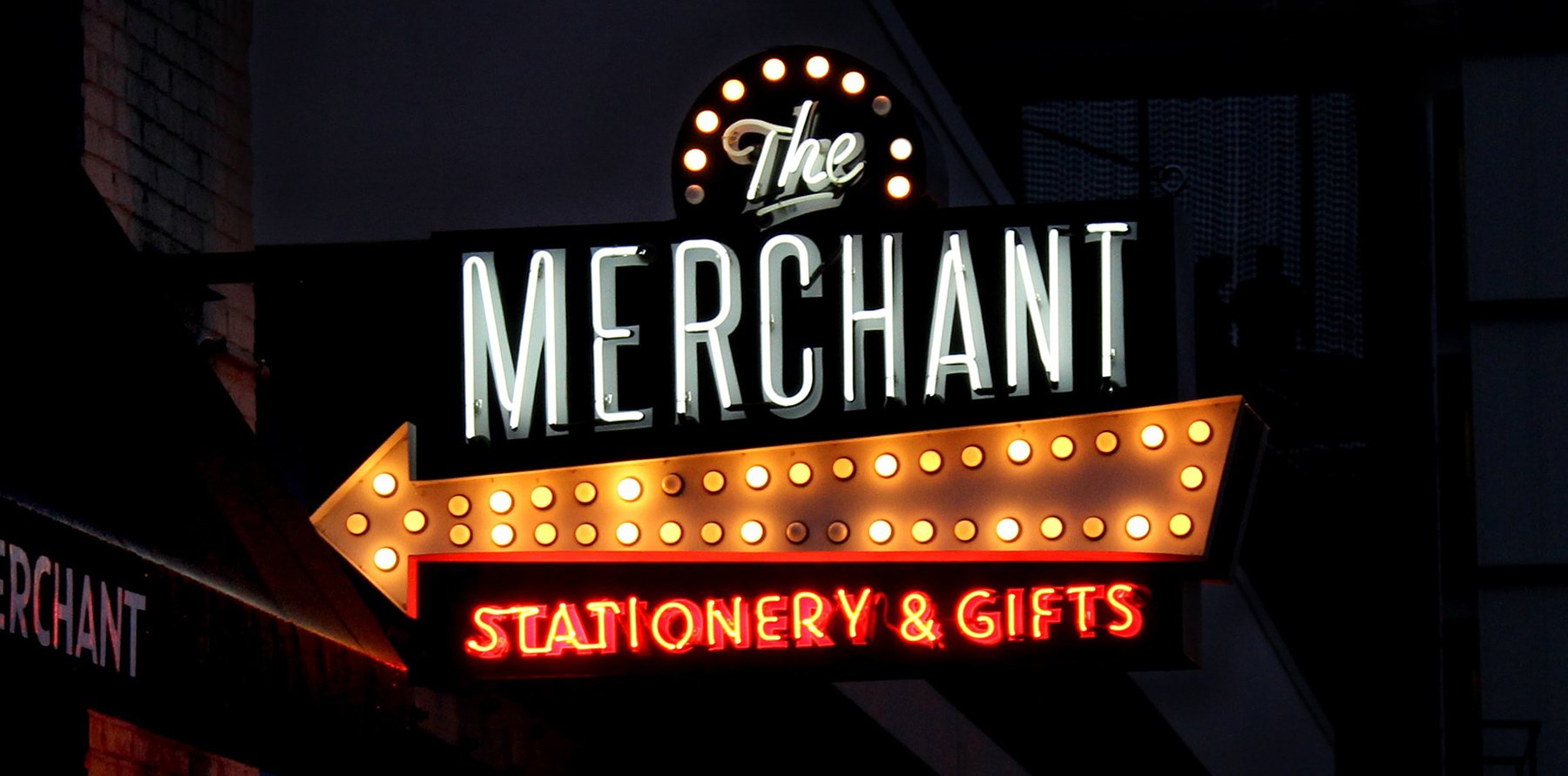 Just like for a local shop or big firm, the name of your Etsy shop is vital for your brand image and how customers perceive you. It can be related to what you sell, an invented name or your own name. But keep an international clientele in mind: Etsy allows you to sell directly to people in countries all over the world.
If you have creative block, check out Etsy's tips on how to pick a good name for your shop, do some Googling to see what competitors are up to, and speak to friends, family and colleagues!
Listing items in your shop
To open your shop and start selling on Etsy, the platform requires that you list at least one item. The listing is the core to your online business: it describes the product being sold and entices customers to buy it.
To sell well on Etsy, your products must be described in detail and with care: ideally, you want to pique the customer's interest while providing them with all the information they need to know about a product.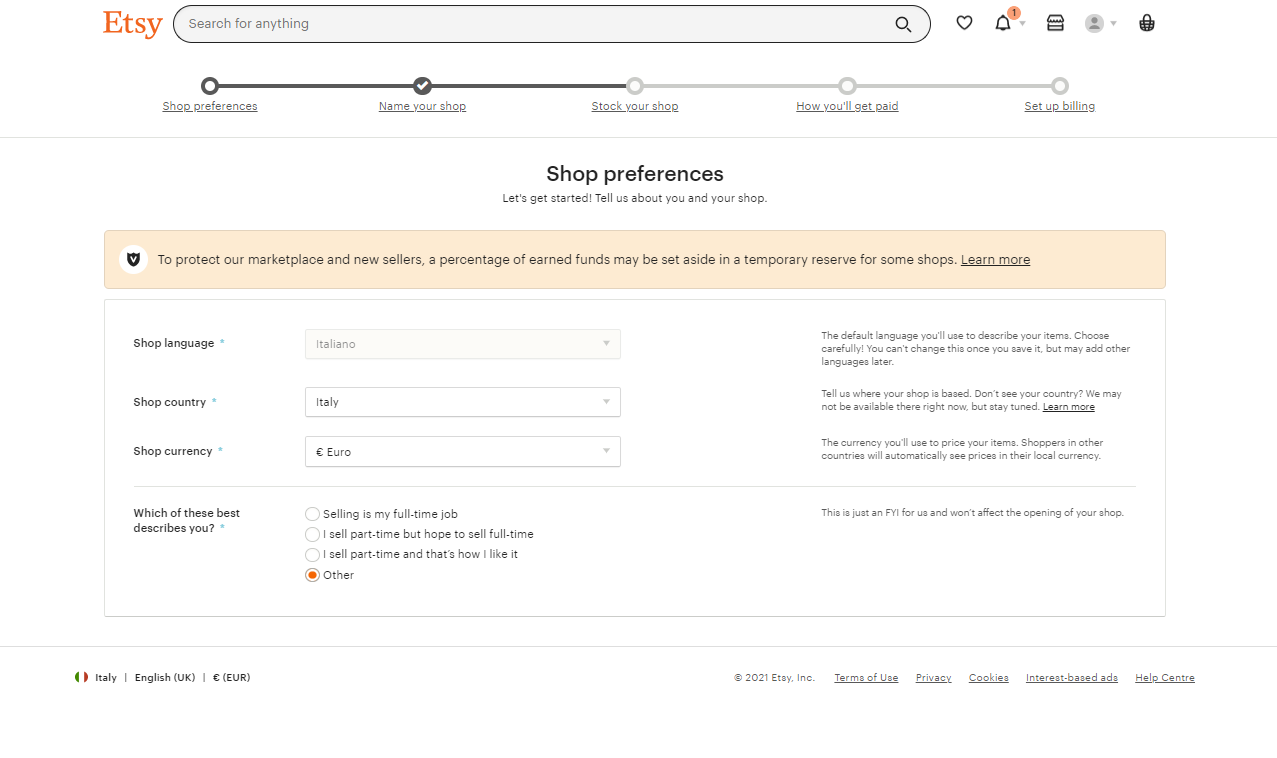 Let's look at what details can be added:
Photos and videos. You can add up to ten photos per listing. On the listing screen, Etsy provides useful tips on which photos to use: a main image, photos from other angles, pictures of the item in use, and images showing the item beside other objects to give an idea of its size. It's also possible to add a short video.


Our advice is to create your photos with meticulous care. It may even be worth hiring a professional photographer to help you.

Title and other details. Title and category are two more key details for presenting your product. The title should be clear and contain key words that make it easy for customers to find. For example, if you're selling a "customised cushion" both these words should appear in the title, preferably among the very first words.

While the title should focus on key words, the description offers more space to describe your product. Start with a sentence that arouses curiosity, and then go on to provide more details on the item: how it was made, with what materials and why the customer must have it. Here too, you may want to employ the services of professional copywriter.

Prices and inventory. Decide what price you want to sell your product on Etsy for and indicate how many of the same item you have in stock. The price should take into account the cost of materials and other business expenses. Shipping costs are worked out separately.

Here you need to indicate the country from which you ship, the processing time (the time it takes to prepare and dispatch the order), fixed shipping costs and your delivery times. We strongly recommend ensuring that the information you give is as accurate as possible and always up to date – this will ensure you are always viewed as transparent and professional by customers.
Here you'll find a useful guide on how to list an item.
How to sell on Etsy: building your brand
Once you've published your first listings and set your payment methods, you can then start adding useful extra information: this is the shop set-up phase. And it's crucial for effective selling on Etsy.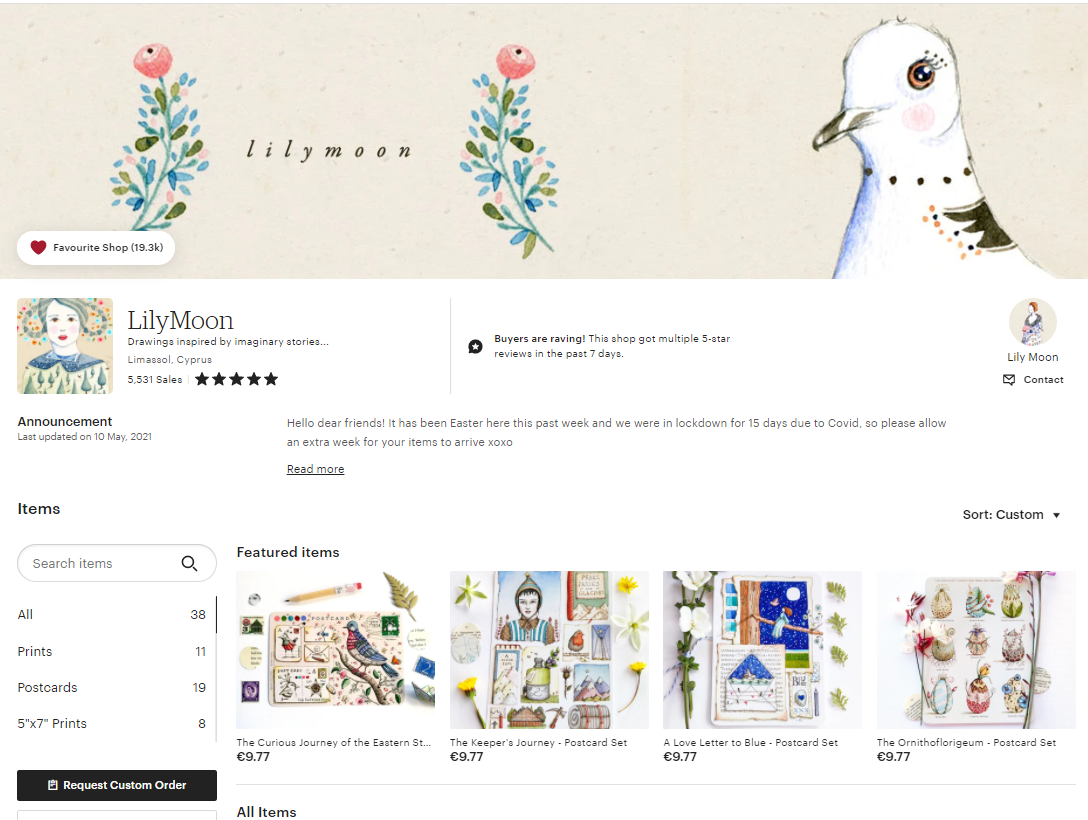 Just like a bricks-and-mortar shop, it's vital to use text and images to build your brand's identity. This involves telling people who you are, how you work and what your values are.
Here's what you need to set up your shop:
A shop banner and logo. This is the visual part of the brand. If you already have a bricks-and-mortar shop, you can adapt its visuals for your digital shop. If you don't, make sure you upload clear images that will embody your brand's style and make a good impression on customers.
Welcome message. A sentence that conveys shop's style and identity, as well as the products it sells.
Profile. Use photos, videos and text to tell people who you are, how you make or choose the products you sell, and why your brand is different from all the others. You'll find more useful tips here.
Shop members. Tell people who you work with: customers want to buy things that have soul, that are made by people with names and faces.
Shop policies. This section contains all the information that customers need to know about things such as returns and exchanges, delivery and payment options. To build trust, it's important to communicate clearly and succinctly in this section.
Marketing and promotions for selling on Etsy
Now that your shop is ready to trade on Etsy, let's see how you can boost sales with a bit of marketing.
Marketing tools can help you reach more customers and make them loyal ambassadors for your brand. Here are three things you can do to start promoting your shop.
Optimise your listings for search. This costs nothing. You can do it by adding effective key words to the listing title and repeating them in tags associated with the item. By optimising listings, you'll ensure that they are ranked higher in searches on Etsy.

Learn how to do this here

.
Connect your Etsy to social media. This too costs nothing, but it does require care and time. You can create pages on the main social networks and use them to talk about your shop, how you create or choose items, and what's new in your shop. You can connect your Etsy shop to these profiles and automate the sharing of some content.
Paid marketing campaigns. It's worth considering setting aside some of your budget for marketing your shop on and off the platform. Etsy provides an advertising service –

Etsy Ads

– that promotes listings both on the platform and on partner services like Google Shopping.
Running your Etsy shop
You now know how to sell on Etsy and drive sales through effective marketing campaigns. So we're going to wrap things up by giving you a few last tips on how to run your e-commerce business well.
Like any retail business, once you've sold your first items, you'll find yourself having to manage other factors to build a loyal customer base and grow your business. Let's take a closer look at three areas: problem solving, reviews and… how to take a break!
Problem solving
Etsy helps sellers to resolve disputes, investigate chargebacks and any other shop-related issues under certain conditions. Eligibility requirements apply to both the shop (for example, it must be in good standing and enrolled in Etsy's payment platform, Etsy Payments) and the order in question (for example, it must have been sent according to the dispatch-by date listed and you must have proof of dispatch). To get a better understanding of these conditions, carefully read the Etsy's Seller Protection Policy.
Managing reviews
As for any other online marketplace, managing reviews is crucial for trading on Etsy. You can respond to buyer reviews with a rating of three stars or less. What's more, if a buyer has left a five-star review with a photo of their purchase, this will be automatically displayed on your shop, unless you choose otherwise. And don't forget to remind buyers how important their reviews are for you!
Take a holiday every so often
Managing an online shop – especially a successful one – can really take it out of you. That's why it's good to take a break from time to time. Etsy makes this easy: by turning on Holiday Mode, you can temporarily hide your listings from searches. You can also set up an auto-reply message for customers so you can respond to them when you return.
 Now you know how to sell on Etsy and build your brand. How did your first orders go?
Are you looking for packaging or labels for your products? Check out our rings, bracelets and earring boxes!